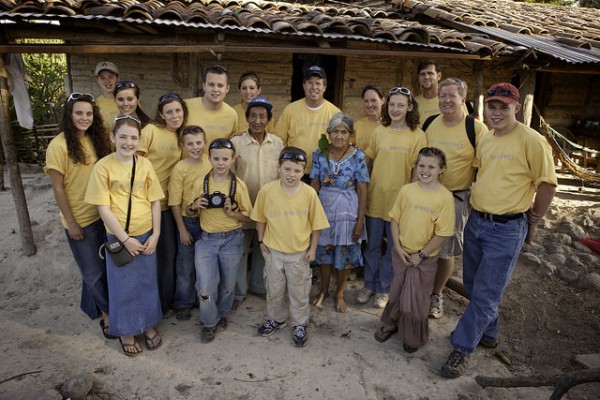 (This story has been updated on 05/23/2015 to reflect all recent developments in the story)
Josh Duggar, one of the children in the hit TLC reality show 19 Kids and Counting was turned over to the Arkansas State Police by this father Jim Bob Duggar, who according to a source says that Jim Bob caught Josh leaving a young girl's bedroom and later "learned something inappropriate happened." The charges sought against Josh was sexual assault in the fourth degree, and took place while Josh himself was still a minor.
"I saw and read the report and it clearly stated that Jim Bob brought his son Josh into the Arkansas State Police and spoke to a state trooper about Josh's involvement in alleged inappropriate touching with a minor," another source added.
However, according to Raw Story, Josh was not prosecuted.
Investigating officer Sgt. Darrel Hignite, would not give a statement about the case. "I can't comment or discuss [this case] because of the sensitive nature and because it involved a juvenile," he said.
"A technicality prevented any further action," a source told In Touch Weekly. "That's been the biggest regret in all of this."
The technicality seems to be an expired statute of limitations, as the report was first filed in 2005. In Touch Weekly does report however that since this case, the state has lengthened the statute of limitations for such crimes. The state trooper who originally took the report in 2005 never followed up and according to In Touch Weekly, "That state trooper was later convicted on child pornography charges and is serving a 56-year prison sentence."
Josh Duggar is a lobbyist for the Family Research Council and lives in Washington, D.C. with his wife Anna and three children.
Since this story was originally reported Josh Duggar has confessed to the crimes and the Duggar family released a statement.
Speaking to People Magazine Josh said:
"Twelve years ago, as a young teenager. I acted inexcusably for which I am extremely sorry and deeply regret." He continues, "We spoke with authorities where I confessed my wrongdoing, and my parents arranged for me and those affected by my actions to receive counseling."
Duggar's wife Anna says he confessed his "past teenage mistakes" to her 2 years before they were engaged to be married and claims the counseling he went through after the incidents "changed his life."
Josh's parents released a joint statement:
"Back 12 years ago our family went through one of the most difficult times of our lives," the statement reads. "When Josh was a young teenager, he made some very bad mistakes, and we were shocked. We had tried to teach him right from wrong. That dark and difficult time caused us to seek God like never before."

It continues, "Even though we would never choose to go through something so terrible, each one of our family members drew closer to God. We pray that as people watch our lives they see that we are not a perfect family. We have challenges and struggles every day. It is one of the reasons we treasure our faith so much because God's kindness and goodness and forgiveness are extended to us – even though we are so undeserving. We hope somehow the story of our journey – the good times and the difficult times – cause you to see the kindness of God and learn that He can bring you through anything."
As many have pointed out, the Duggar parents and Josh make no mention that four of the five victims are the Duggar's own daughters, one of which was 5 years-old at the time.
TMZ reports that:
According to the police report, Josh fondled the genitals and breasts of the girls, some of whom were sleeping, but sometimes they were interacting with him … in one case reading a book.

There was another reported incident 9 months later. According to the police report, the police were not immediately contacted. Instead, Jim Bob, the dad, met with church elders and agreed Josh should be put in a treatment program. The police report says Josh's mom, Michelle, said it wasn't really a treatment center … they simply sent Josh to a guy who was remodeling a building to do manual labor.
This story is unfolding quickly and many of the Duggar's fans are denying the incidents even happened, but more and more reports are coming to light making the case against Josh rather damning.
It also turns out that Jim Bob did not contact the authorities for over a year after Josh confessed to him. That is downright disgusting and if possible should be investigated for his role in covering this up and leaving authorities unable to prosecute Josh now.
Jim Bob only went to authorities after a canceled 2006 Oprah appearance in which someone alerted the show of Josh's actions and the show's producers sent the email to authorities.
According to police reports, Jim Bob first contact his church, but refused to take their advice on counseling services for Josh, and while original reports suggested the did send him to a facility, later reports confirmed they did in fact only send him to help a guy remodel his house.
Jim Bob then later told an Arkansas state trooper about the incident, a personal friend of the Duggars who instead of reporting the crimes, was said to have given Josh a "stern talking to," but as later reports confirm, the officer was himself arrested and sentenced to 56 years in prison for child pornography.
So Josh was never given actual treatment for his actions and was allowed to continue to live in the family home with the children.
Josh has since resigned from his position at the Family Research Council and TLC pulled all episodes of the popular show off the air, but have yet to make a final decision on canceling the show for good as the did with another show Here Comes Honey Boo Boo, after Mama June, the mother of the show's star Honey Boo Boo entered into a relationship with a convicted pedophile. Mama June even told TMZ she has considered suing the network if they failed to act against 19 Kids and Counting.
(Image: Lwp Kommunikáció / Flickr / Creative Commons)