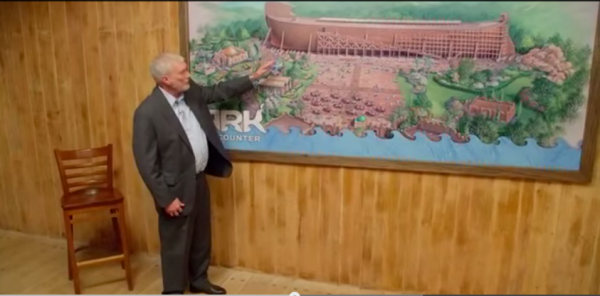 Kentucky's Courier-Journal posted questions and answers with Kentucky's candidates for governor to replace outbound Democrat Steve Beshear who is not eligible to run for re-election.
One interesting question posed by the Courier-Journal peaked my interest:
Do you favor or oppose extending $18 million in state tax rebates to the Ark Encounter project in Grant County, which has acknowledged it plans to limit its hiring to Christians? Why or why not?
And the answers?
Republicans

Matt Bevin: I favor the extension of these rebates, because to do otherwise is discriminatory and flies in the face of protected 1st Amendment rights. Last time I checked, Christians' jobs and money are just as critical in supporting our economy as any other dollars.

James Comer: I favor extending these tax rebates. This should be viewed like any other economic development project by the Commonwealth of Kentucky. It will bring hundreds of jobs to Kentucky.

Hal Heiner: Favor. I support an even playing field for Kentucky Tourism Development Program dollars. Assuming that the Ark Encounter's religious preference in hiring is within legal bounds, it should receive fair and just treatment under the program guidelines.

Will Scott: I favor the existing agreement for performance-based tax rebates for this project and expect that anyone who would want to work there would probably be a Christian.

Democrats

Jack Conway: I support the right of individuals to live by their religious beliefs, but we're a better state and country for not discriminating in employment.

Geoff Young: Oppose. They demand the "right" to practice religious discrimination in their hiring practices. While they might legally be allowed to do that — if they're actually some kind of church, for example — the state is under no legal or ethical obligation to subsidize their business.
Not surprisingly on the Democrats stand up for the separation of church and state while the Republicans want to extend the rebates and also support the Ark Encounter's discriminatory policies which violate both state and federal laws.
Thankfully, from the polls I have seen, Conway seems to have a strong going into tomorrows primary election. He is leading over Young but also holds a good lead over Heiner, the favored Republican.
Hopefully Kentucky can keep the state blue and keep taxpayer dollars out of Ken Ham's hands.
(Image: Answers in Genesis / YouTube screen capture)