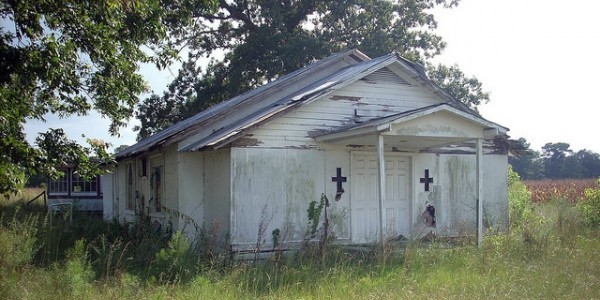 According to a new study by Pew Research, religiously unaffiliated adults now outnumber Catholics by two percent in the United States.
The study also found that the number of adults who describe themselves as Christians has dropped nearly eight percent over the past seven years.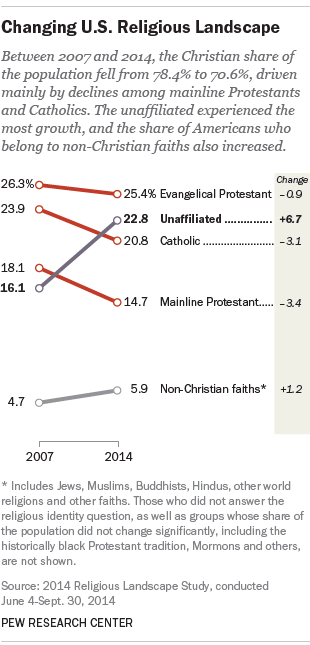 What could cause such a drop in the Christian population of the US? The study suggests:
The drop in the Christian share of the population has been driven mainly by declines among mainline Protestants and Catholics. Each of those large religious traditions has shrunk by approximately three percentage points since 2007. The evangelical Protestant share of the U.S. population also has dipped, but at a slower rate, falling by about one percentage point since 2007.
As for Catholics, they have remained somewhat steady for past seven years but have seen a drop of almost three million Americans since 2007.
But since 2007, religiously unaffiliated adults has grown by 19 million (a 19.2 percent increase), bring their estimates totals to 56 million Americans, as compared to 51 million Catholic adults.
With many factors coming into play to account for the drop in Christian numbers and the rise of the non-religious, Pew says:
As the Millennial generation enters adulthood, its members display much lower levels of religious affiliation, including less connection with Christian churches, than older generations. Fully 36% of young Millennials (those between the ages of 18 and 24) are religiously unaffiliated, as are 34% of older Millennials (ages 25-33). And fewer than six-in-ten Millennials identify with any branch of Christianity, compared with seven-in-ten or more among older generations, including Baby Boomers and Gen-Xers. Just 16% of Millennials are Catholic, and only 11% identify with mainline Protestantism. Roughly one-in-five are evangelical Protestants.
Now, atheists reading this should not jump with immediate joy that there are now 56 million atheists in the US, though as of 2007 roughly 25% of "nones" identified as atheist and now the study shows those numbers have increased to 31% showing that the trend is definitely moving in that direction.
The religiously unaffiliated have historically still claimed to believe in some form of God, but it cause for celebration because there is a bigger trend of non-religious (or "nones") to identify with a more secular government and often find religion to be harmful to society.
The study also showed that nearly 18 percent of "nones" were raised in a religious household and left that religion as they entered adulthood, or even more common, after graduating college.
"The percentage of college graduates who identify with Christianity has declined by nine percentage points since 2007 (from 73% to 64%)," the study highlights.
Yet the study did show that non-religiously affiliated adults share a common problem with the atheist community in general and that is diversity, but while white males continue to dominate both spheres, there are signs of change.
Whites continue to be more likely than both blacks and Hispanics to identify as religiously unaffiliated; 24% of whites say they have no religion, compared with 20% of Hispanics and 18% of blacks. But the religiously unaffiliated have grown (and Christians have declined) as a share of the population within all three of these racial and ethnic groups.

…

More than a quarter of men (27%) now describe themselves as religiously unaffiliated, up from 20% in 2007. Fewer women are religious "nones," but the religiously unaffiliated are growing among women at about the same rate as among men. Nearly one-in-five women (19%) now describe themselves as religiously unaffiliated, up from 13% in 2007.
The tides are slowly turning in the US. While Christians are without a doubt the majority in the US, roughly seven-in-ten still identify as Christian, they are losing important ground and single religions that held a massive majority is slipping with only Evangelical Christians holding the top spot above "nones."
(Image: Gerry Dincher / Flickr / Creative Commons)