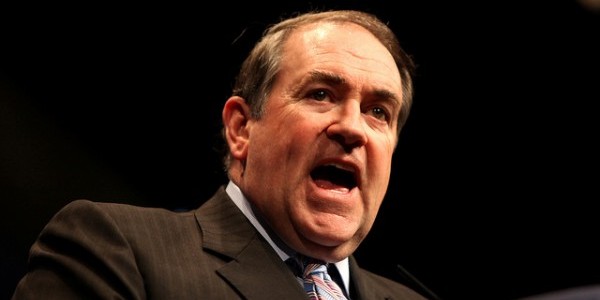 Just a day after Josh Duggar of TLC's 19 Kids and Counting admitted to multiple accounts of child molestation, Presidential hopeful Mike Huckabee rushed to Duggar's defense.
Writing on Facebook, the former pastor said:
"Josh's actions when he was an underage teen are as he described them himself, 'inexcusable,' but that doesn't mean 'unforgivable.'"

"They are no more perfect a family than any family," Huckabee continued, "but their Christian witness is not marred in our eyes because following Christ is not a declaration of our perfection, but of HIS perfection."
Huckabee, while defending a now known child molester has been a vocal advocate against gay rights, even equating homosexuals to child molesters in 2012 when speaking out against gay Boy Scout leaders.
Duggar was accused of child molestation earlier this week and after more information leaked that four of his 5 victims were his sisters, one being 5 years-old at the time, the Duggar family released a public statement in which Josh admitted to the crimes. However Josh avoided prosecution because his family managed to keep the ordeal secret long enough to get past the states statute of limitations.
(Photo: Gage Skidmore / Flickr / Creative Commons)