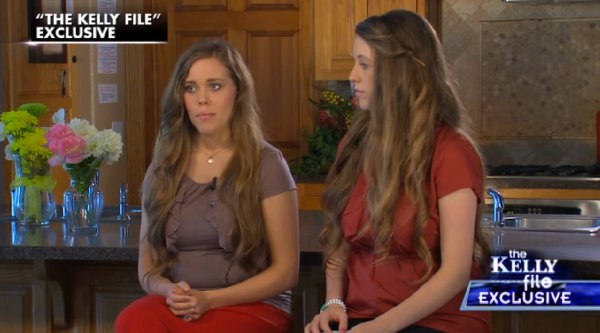 Fox News' Megan Kelly interviewed two of the Duggar daughters tonight, Jessa Seewald, and Jill Dillard, both now married, spoke about their brother Josh's sexual assault on them when he was 14.
While the girls admitted what Josh did was wrong, they continuously referred to the acts as "inappropriate touching" and tried very hard to avoid words like assault and molestation. "Calling him a child molester or a pedophile or a rapist… I'm like, that is so overboard and a lie," said Jessa. This is even harder to hear when you think about the fact that one of the other victims was their 5-year-old sister.
They also admitted to being confused and angry but decided to forgive their brother for his actions.
"Josh was a boy, a young boy in puberty, and a little too curious about girls," Jessa says. "And that got him into some trouble. And he made some bad choices, but, really, the extent of it was mild — inappropriate touching on fully clothed victims, most of it while [the] girls were sleeping."
Yet, that statement is not true according to the statements the girls and father Jim Bob gave to the police stating that Josh "had put [his] hand under [redacted's] dress."
"I do want to speak up in his defense against people who are calling him a child molester or a pedophile or a rapist, some people are saying," she adds. "I'm like, 'That is so overboard and a lie really.' I mean people get mad at me for saying that, but I can say this because I was one of the victims."
Josh, however, was 14 at the time and while he certainly would have been curious about girls at this time, touching them would have been for sexual pleasure, hence repeating his actions even after confessing them. This was much more than a curiosity about female bodies, but it seems the daughters were either repeating talking points or this was the point their parents made to them over and over again at home.
When it comes to life in the Duggar home, a question left unanswered by the parents in the first interview was about the "safeguards" Jim Bob referred to when insisting he was able to keep the girls safe after the first incident was reported. Kelly asked the daughters tonight what those safeguards are and Jill said that as a precaution, her parents locked the girls and the boys in their separate rooms from each other every night. This is something in which she described as "amazing" parenting and even said as a parent now she looks back at what a great job they did.
A great job except for the fact that it happened again, a reported seven times before Josh was finally removed from the house for what the family called counseling, but was nothing more than a few weeks or months at a "man's house" doing some physical labor.
Kelly kept the topic coming back to the fact that the family felt the media had illegally required the police reports, repeating their parents talking point that people dislike them or have an agenda against them for being Christian and or speaking their minds.
Jessa said, "The system that was set up to protect kids, both those who make stupid mistakes or have problems like this in their life and the ones that are affected by those choices. It's greatly failed."
She was speaking to the fact that the family was informed that their statements would be sealed and never made public and now that they had been, the felt victimized again and even said that the outing of these reports was more hurtful than the sexual assault itself.
The true irony came not from the victims, but from host Megyn Kelly and later her guest Howard Kurtz who shamed the media for outing the girls and publicizing this story for money.
Keep in mind, this interview, and the one with the Duggar parents aired on Fox News, a network cable company in a prime-time slot with a massive advertising campaign surrounding it.
Fox and guests and even the daughters suggested that the outing of the reports was dangerous because it will send the message that reporting your attack is not as anonymous as one may think.
However, we must look at a few facts here, and delicately because yes, the daughters are victims and they are victims who have been conditioned by their culture, parents and religion to ignore what happened to them, accept their brother is changed and to now advocate for his forgiveness on national TV. What we witness on national television spoke volumes to the level of victimization taking place in this household.
So, first, we have the fact this report came out and what it really shows is that a crime can go unpunished, if you report your attack, tell the police, there is a chance nothing will happen and your attacker will be free and living under your same roof.
Secondly, the girls are not named in the police report and many publications did not attempt to name them. Of course some did, and they are terrible for doing so, but the police reports left their names redacted upon release of the documents. There was no confirmation on which girls were molested until they decided, or their parents decided, that they should go on television to defend their brother.
It is important that these reports came out because they show that a criminal cannot live in peace forever. Josh Duggar got away with his crimes and then went on to have a successful career at the Family Research Council campaigning against LGBTQ equality and often calling them pedophiles and a danger to society. They very thing he is.
(Image: Fox News Screen capture)