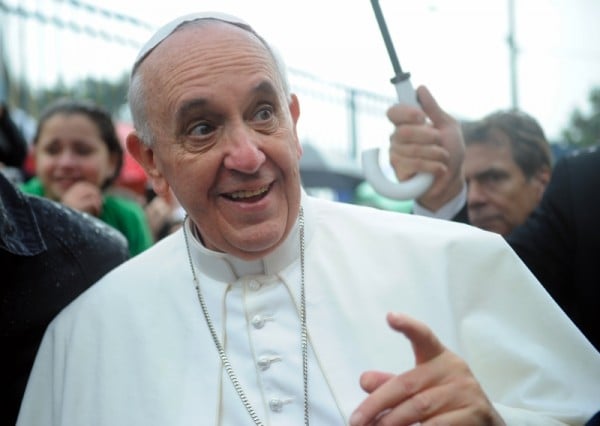 I am not a fan of Pope Francis, I have made this clear again and again, however, I don't think I would join in with Fox News' Greg Gutfeld in calling him "the most dangerous person on the planet."
During a panel discussion on Fox's The Five, Gutfeld ranted about the Popes thoughts on climate change and accused the Pope of being a "Marxist."
"And that is what the Pope is doing. He doesn't want to be your grandfather's Pope. He wants to be a modern pope. All he needs is dreadlocks and a dog with a bandanna and he could be on Occupy Wall Street," Gutfeld complained.
Gutfeld then ventured quickly into conspiracy theory territory venturing from Marxism to claiming the Pope has a Malthusian belief system.
"He is a Malthusian. He is in bed with Malthus. He believes that the Earth is overpopulated… and remember he said Catholics have to stop breeding like rabbits? Do you remember where that came from? That's a Malthusian belief. And Malthusians believe that the Earth is overpopulated and it would be nice if there were a few billion people less. How does that happen? Global warming."
Panel guest Juan Williams defended the Pope's stance on climate change and accused Gutfeld of trying to politicize the statement.
"I think the problem for you is that you put it in a box of pure politics, left and right," he said. "What about if the Pope is simply saying… we should do all we can to support God's green earth. Is that so radical?"
Gutfeld responded, "Um, he has a Marxist background."
Apparently it takes climate change to set off Fox News hosts about the Pope and not his continued protection of child molesters, treatment of transgender men and women or attacks on same-sex families. No, those are all fine but dare side with 97 percent of the world's scientists, and you're a monster.
While I do believe Pope Francis is very dangerous, on the issue of climate change, Fox News is doing nothing but fear mongering.
(Image: Agência Brasil / Creative Commons)