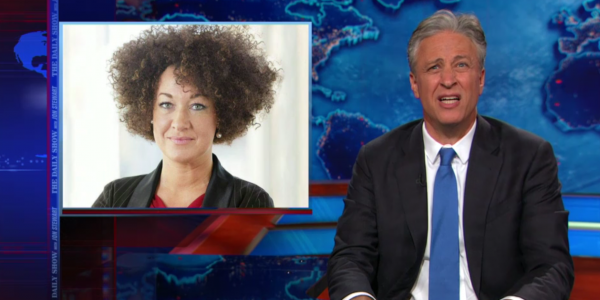 The Rachel Dolezal story seems to get increasingly more bizarre by the day. After the original news broke that she was a white woman who had spent the last 10 years lying about her race, she stepped down from her position at the NAACP and then went on a media tour to defend her lying.
As I have written previously, I do not believe for a second that someone can be "transracial" and that doing so is an example of white privilege. I statement I still stand by today, regardless of all the white people messaging me telling me they can be whatever race they want, further proving my point.
The issue was of course raised on The Daily Show with Jon Stewart and after overcoming his initial shock of the story in general in a new segment he called, "Whaaaaaaat!?"
"Unless of course somebody wants to take a singular incident unrepresentative of any larger construct or trend and force it into exhausting, 24-hour Benghazi Obamaphone culture war dog whistle who-gives-a-fuck-a-tron," Stewart said.
The segment jumped to clips of Fox News guests blaming liberals and even one going as far as saying, "if racism was so pernicious, why would a white woman pretend to be black?"
"Yes, yes, a white person," Stewart said, adding extra emphasis to the "A". "Why would a singular white person?"
Stewart that went straight for the networks throat.
"You might also ask, perhaps more appropriately, if being black is such a sweet deal, why are millions of white people ignoring this once-in-a-lifetime opportunity? How do you make all these sweeping generalizations about it anyway? One lady — one lady, una mas lady — in Washington state's second-largest city pretending to be black. Clearly liberal culture has reached its nadir. Rome has fallen, yet racism is over. It is the best of times, it is the worst of times — all because a German lady got a weave."
Later in the show, senior black correspondent, Jessica Williams, discussed the incident and closed it up nicely by telling viewers that the black community "needs allies, not replacements."
(Image: Comedy Cental / Screen capture)