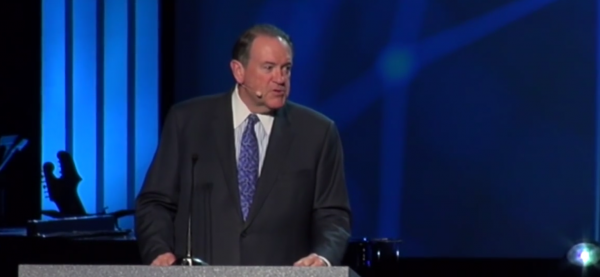 Former Arkansas Governor and Republican presidential candidate Mike Huckabee once delivered a videotaped address to the Council of Conservative Citizens.
The Council of Conservative Citizens was a white nationalist group that had deep ties with the GOP in the south and was cited by Dylann Roof in his manifesto that was found online after the 21-year-old killed 9 people last week at the historic black church Emanuel AME in downtown Charleston.
According to a 2008 report by the Huffington Post, then Lt. Gov. Huckabee was invited by the nationalist group to speak at the 1993 convention but was unable and instead "sent an audio/video presentation saying 'I can't be with you, but I'd like to be speaker next time'."
A 1993 newsletter by the group which was recently obtained and read, "Ark. Lt. Governor Mike Huckabee, unable to leave Arkansas by law because the Governor was absent from the state, sent a terrific videotape speech, which was viewed and extremely well received by the audience."
Huckabee was invited again to speak in 1994 and after originally accepting the invitation, withdrew after a human rights group informed him the organization denied the holocaust happened. Huckabee said he would not do business with holocaust deniers.
"I will not share the stage or platform with someone who thinks the Holocaust didn't happen," Huckabee said at the time, as quoted by The Arkansas Democrat-Gazette.
However, Huckabee then told the paper he was unfamiliar with the nationalist group, despite the fact he addressed them only the year before.
"It's such a rare thing that we have such an organization like this, and usually there are people on the program that we know," he said, as quoted by The Arkansas Democrat-Gazette. "This is one we may not have known enough about."
The Council of Conservative Citizens has proven to be a tough obstacle for many of the GOP presidential candidates in this current election cycle, as noted by Talking Points Memo, "Sen. Ted Cruz (R-TX), Sen. Rand Paul (R-KY) and former Pennsylvania Sen. Rick Santorum (R-PA) all announced they would refund or donate thousands of dollars in campaign contributions from Earl Holt III, the group's current president."
Sadly it took a racist terrorist to kill 9 innocent people for these politicians to do the right thing because prior to the shooting, they took the money with no complaints.
[Image: YouTube screen capture]