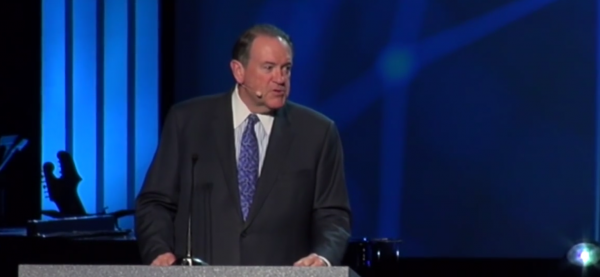 Presidential hopeful and all around lowlife, Mike Huckabee never misses a chance to attack oppressed minority groups and spared no expense on attacking transgender youth by claiming they only say they are trans in order to shower with the opposite sex.
"Now I wish that someone told me that when I was in high school that I could have felt like a woman when it came time to take showers in PE," Huckabee said earlier this year at the 2015 National Religious Broadcasters Convention in Nashville, Tennessee.

"I'm pretty sure that I would have found my feminine side and said, 'Coach, I think I'd rather shower with the girls today.'"
With the crowd laughing at his comments, Huckabee replied, "You're laughing because it sounds so ridiculous, doesn't it?"
He continued on to claim that Christians are being scorned because they are pointing out that there is "something inherently wrong about forcing little children to be a part of this social experiment."
"For those who do not think that we are under threat," he said, "simply recognize the fact that we are now in city after city watching ordinances say that your seven-year-old daughter — if she goes into the restroom — cannot be offended and you can't be offended if she's greeted there by a 42-year-old man who feels more like a woman than he does a man."
Just imagine the wonderfully hateful president this man would make. He is either too ignorant to understand what transgender means or is pandering to an even more ignorant audience, either way, this man is dangerous and hateful.
According to a report by Vocativ:
According to surveys, 4.6 percent of the overall U.S. population has self-reported a suicide attempt, with that number climbing to between 10 and 20 percent for lesbian, gay or bisexual respondents. By comparison, 41 percent of trans or gender non-conforming people surveyed have attempted suicide.
Huckabee and those like him create a hostile environment for trans people in this country and that plays heavily into the staggeringly high suicide rates and attempts.
This hateful speech and rhetoric must be stopped. Lives are being lost because of pure hateful and spiteful ignorance.
Senator Marco Rubio worries that equality will lead to Christianity being labeled as hate speech. Well Mr, Rubio, it's too late for that. Christianity is hate speech.
You can watch Huckabee's hate filled speech below:
(Image: YouTube Screen capture)