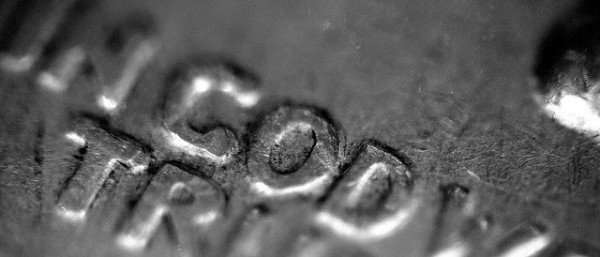 Over at Friendly Atheist, Hemant Mehta has written a piece about my hometown of Springfield, Missouri. It concerns City Council member Justin Burnett, who is trying to have In God We Trust placed in Council Chambers below the City of Springfield logo. Mehta's breakdown is good, but there is a bit more to this story.
Burnett isn't the only local politician pushing his religious agenda. Recently, Greene County Sheriff Jim Arnott came under fire for the use of In God We Trust on county patrol vehicles. A local woman, Laura Entwisle, inquired about the legality and wisdom of using the phrase in the Springfield News Leader. Arnott was dismissive of the criticism.
"I'm guessing she is offended by it. If that's the case. [sic] I'm hoping that she does not use any of our currency either," Arnott told News Leader reporter Steve Pokin.
I wrote in the News Leader that Arnott was "conceited and downright pompous" and that his comment regarding In God We Trust on US currency was "nothing more than nonsense and sidestepping of the question."
Also in the News Leader, Len Eagleburger of Springfield asked, "Is it nationalism, patriotism, or just plain voter pandering that causes our elected officials to profess their religious beliefs on the public's dime?
Good question. What is Sheriff Arnott's reason for putting In God We Trust on county vehicles? He says it's "because I like it." If you ask me, because I like it isn't a valid reason to spend taxpayer money.
Several members of the secular community contacted Arnott and received equally asinine responses. Arnott told my good friend Chris McDowell via email that he is "very patriotic" and that to him In God We Trust is "no different then [sic] our flag."
'Merica.
As far as his religious beliefs, on the Greene County Sheriff website Arnott goes so far as to include Springhill Baptist Church on a list of organizations that represent his "commitment to public service."
Springhill Baptist is a wonderful organization whose statement of belief includes things like "a wife is to submit herself graciously to the servant leadership of her husband" and whose blog boasts that "homosexuality perverts and destroys the family structure and society." Public service indeed; I wonder how those beliefs influence the way Arnott handles domestic assault cases or crimes against homosexuals.
Certainly, Arnott's choice to put In God We Trust on taxpayer property had absolutely nothing to do with Springhill Baptist teaching that "church should deal with real issues and demonstrate that everyone is still desperately in need of Christ." I'm sure that Springhill Baptist's core value "it is the duty of every child of God to seek constantly to win the lost to Christ by verbal witness" wasn't on Arnott's mind when he paid around 2,000 dollars to have the stickers put on the cars. (That information provided to me by Cora Hanf, who used Missouri's sunshine law to request the invoices. She emailed me copies of the invoices.)
I reached out to Greene County Commissioner Bob Cirtin about Arnott's dismissive attitude and questionable objectivity. He told me via email that he supports the Sheriff using the phrase and that "Inasmuch as our country was founded as a Christian nation, it appears to be somewhat hypocritical for anyone to become upset about the phrase on police cars when it is commonly used by many government and non-government entities."
Cirtin doesn't seem to understand anything about American history or know what the word hypocrite means. When I informed him of the difference between a country founded by Christians and a country founded for Christians, Cirtin told me that we would "have to agree to disagree about the founding of our country." Sure, never mind things like facts or, as I informed Cirtin, that I'm actually trained as a historian and know what I'm talking about. As an aside, Cirtin also told me that he taught critical thinking at Evangel University. Based on the name of the university, I'm sure you can figure out why that's hysterical.
It seems that Greene County is hopeless for now. However, that isn't entirely true of Springfield itself. Yes, Justin Burnett put forward his In God We Trust bill to "recognize our nation's rich heritage" – i.e. "advance his religious ideology" – but unlike in the case of the Greene County Government, Burnett has significant opposition.
Springfield Mayor Bob Stephens expressed his displeasure with Burnett's idea, essentially calling it a complete waste of time. He told the News Leader that, "First of all, I think we have more important things to worry about than a sign placed in Council Chambers." He continued, saying that he would support E Pluribus Unum if the council did want a motto, as the Latin phrase does not "exclude segments of our constituencies."
Council member Jan Fisk was more pointed in her criticism of the idea, calling In God We Trust discriminatory. When I contacted her via email, Fisk told me that, "I do wholeheartedly believe this [in god we trust] is another way to discriminate against those who choose to have different views."
It is an uphill battle, but we secularists are not without our allies here in the Bible Belt.
Shockingly, Bob Cirtin and Jim Arnott have stopped answering my emails. I am meeting with the City Council on June 16th to tell Burnett to his face what an idiot he is. I'm sure that will go over well.
If you would like to email these officials and tell them what you think, here is their contact information:
Sheriff Jim C. Arnott: jarnott@greenecountymo.org
Commissioner Bob Cirtin: BCirtin@greenecountymo.org
City Councilor Justin Burnett: jgburnett@springfieldmo.gov
If you would like to thank Mayor Stephens or Councilor Fisk for their support of the secular community, you can contact them here:
Mayor Bob Stephens: rstephens@springfieldmo.gov
Councilor Jan Fisk: jfisk@springfieldmo.gov
(Image: Jeffrey Smith / Flickr / Creative Commons 2.0)