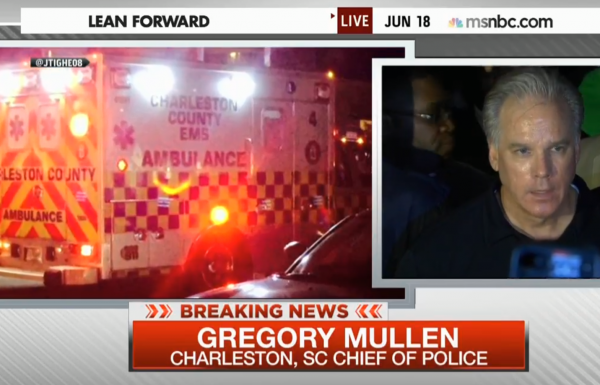 Police responded Wednesday night to a mass shooting at Emanuel AME Church in Charleston, South Carolina. The suspect is still at large and a manhunt is underway in the area.
Officials have confirmed that nine people were killed in the shooting. Eight on the scene and one later who was taken to the hospital.
It was also confirmed that State Senator Clementa Pinckney, who is also the church's pastor, is among the dead.
"It's really bad. It's a very bad scene," said local pastor Thomas Dixon.
Mayor Joe Riley said that the shooting was "an unspeakable and heartbreaking tragedy in this most historic church."
"An evil and hateful person took the lives of citizens who had come to worship and pray together," he said.
The suspect in the shooting is described by the police chief as "a white male, 21 years old with sandy blond hair." The police are warning citizens the suspect is considered armed and dangerous.
During a press conference, South Carolina Police Chief Gregory Mullen confirmed that the FBI is now on the scene and this shooting is being treated a hate crime.
"This is a tragedy that no community should have to experience," Mullen said. "I assure we will do everything in our power to find this individual and lock him up."
Earlier in the night police apprehended a suspect who was coming out of a convenience store, but he was identified as a local photographer and was released.
The church is of great historical significance to the African-American community and CNN describes the history of the church as:
Emanuel African Methodist Episcopal Church was formed in 1816 when African-American members of Charleston's Methodist Episcopal Church formed their own congregation after a dispute over burial grounds.

Six years later, one of the church founders was implicated in a slave revolt plot. He wasn't convicted.

During the case, the church was burned to the ground. It was rebuilt in 1834.
While officials have been quick to call this a hate crime, it remains to be seen if they will continue with the narrative of dismissing white crimes as simply crime and avoid using the word terrorism, but for all intents and purposes, what happened tonight in Charleston was a terrorist attack.
(Image: CNN screen capture)