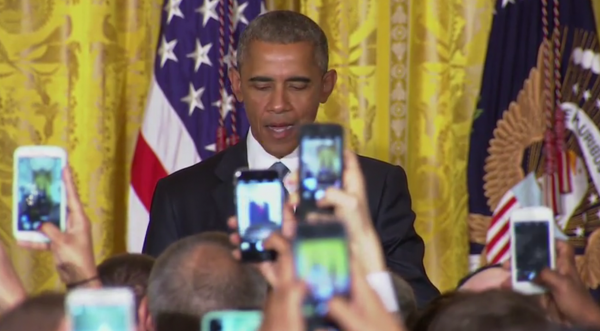 During a reception celebrating LGBT Pride Month at the White House, President Obama replied to a heckler by telling the person "you're in my house."
The woman interrupted the president shortly after he began his speech to which the president replied, "No, no, no, no. Listen, you're in my house," to a massive applause from the crowd.
"You're not going to get a good response from me by interrupting me like this," Obama said. 
The heckler did not quiet down, however, and her actions were met by the crowds boos and chants of "Obama, Obama!"
The woman was then escorted out of the speech at the president's request after first offering her a chance to stay if she stayed quiet.
The Hill identified the protester as Jennicet Gutiérrez of the Not One More Campaign, which vocally opposes the Obama administration's deportation policies.
Gutiérrez, an undocumented transgender woman, can be heard shouting in the video "not one more" and "stop all deportations."
"As a general rule, I am just fine with a few hecklers," Obama told the crowd to a laugh. "But not when I am up in the house. My attitude is if you're eating the hors d'oeuvres, you know what I'm saying? And drinking the booze? I know that's right."
The Not One More website is praising Gutiérrez's disruption for bringing the issue to the national stage.
"The White House gets to make the decision whether it keeps us safe, "explains Gutiérrez  "There is no pride in how LGBTQ and transgender immigrants are treated in this country. If the President wants to celebrate with us, he should release the LGBTQ immigrants locked up in detention centers immediately."
While Gutiérrez's actions may be rude and disruptive, she is raising a valid point on an issue we should be discussing.
[Image: Video screen capture]