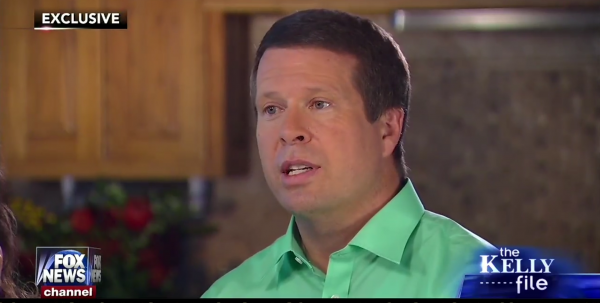 Due to what the family is calling "attacks" on their family, the Duggars, stars of TLC's 19 Kids and Counting, have decided to pull out of an upcoming homeschool conference in Colorado. These "attacks" stem from last month's confession that son Josh Duggar sexually assaulted four of his sisters and the families babysitter.
No Duggar has appeared in the public spotlight since their trainwreck of interviews on Fox News' Kelly Files in which both the Duggar parents Jim Bob and Michelle defended their son's actions and excused their own behavior in covering it. Following that, two of their daughters, who were victims of Josh's sexual assaults went on television to again excuse their brothers actions.
Jim Bob and Michelle has been scheduled to appear this week at the Rocky Mountain Super Conference on the Family put on by the Christian Home Educators of Colorado (CHEC), but today the CHEC released the following statement:
"By God's Providence, CHEC just received word that Jim Bob and Michelle Duggar have decided not to come and address the 2015 Rocky Mountain Super Conference on the Family. This latest change comes in light of recent and increased attacks and pressure on the family.  They have graciously requested to withdraw entirely from speaking at this year's conference and therefore will not be appearing at the Friday evening event on June 19th."
The family had originally still planned to attend, but conference organizers did state they would not address the current scandal the family is dealing with.
The full cancelation comes just days after an apparent new investigation is underway into the family as the Arkansas' Department of Human Services attempted to pay the family a visit and ended up calling 911 because the Duggar family refused to cooperate.
The Duggar's future with TLC is still in limbo as the network has not made a decision on the future of the show, but the network is getting a lot of heat to cancel the show after the story surrounding Josh broke.
19 Kids and Counting is currently the number one rated show on the network and many believe that the network is trying to help the family salvage its reputation in order to keep the show on the air. Some have suggested that network executives have given thought to simply firing Josh and not allowing him to appear, but many feel this does not go far enough.
"What Josh did and what happened to the Duggar family was a whole lot worse than what we were doing. I didn't cover up anything, I was honest from the very beginning," said June Shannon, better known as Mama June from TLC's Here Comes Honey Boo Boo.
Here Comes Honey Boo Boo was canceled almost immediately after it was revealed that Shannon was dating a convicted child molester who had recently been released from prison.
The massive double standard is visible from miles away, but it seems that TLC had no problem canceling an already declining show when moral standards came into question but seem to be hesitant about doing the same when their bottom line could take a hit.
(Image: Fox News YouTube screen capture)
(h/t Raw Story)