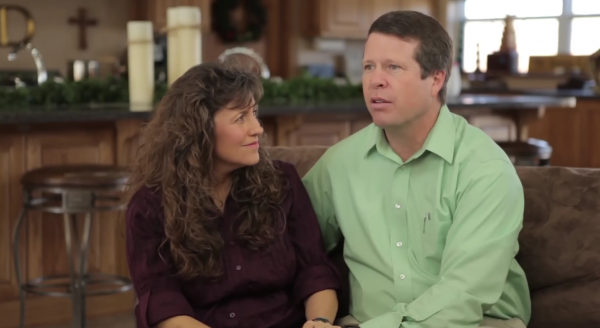 If you watched any of Jim Bob and Michelle Duggar's interview with Fox News' Megyn Kelly last night, you may have noticed that much of their story either changed throughout the interview or flat out did not match the previously released police reports.
For starters, Kelly, and the Duggars insisted that the police report was obtained illegally and Jim Bob insisted that was a much bigger story.
Yet, according to In Touch, the magazine who released the documents to the public say they obtained the documents perfectly legally through the Freedom of Information Act, and since Josh Duggar was an adult at the time of the release, there was no legal issue in releasing them.
InTouch points to a Northwest Arkansas Democrat Gazette article that stated the documents were not protected and subject to the Freedom of Information Act like any other similar record:
"'I don't think [the agencies] had a choice,' said John Tull, a Little Rock attorney who specializes in public-record cases. 'They had to release the reports. Those records are not closed under FOI. The alleged perpetrator had attained his majority at the time it was released, and once his name and all the victims' names were blacked out, it was subject to FOI.'
When asked why they did not report the crimes to the authorities immediately, the couple said they did not have to. Declaring they chose to handle the matter internally. However, In Touch spoke with Arkansas law professor Michael Johnson, who made it very clear the couple could have faced jail time for not reporting these crimes.
"It is possible that investigators looking into this case could have cited the parents Jim Bob Duggar and Michelle Duggar with Arkansas Code 5-27-221 'Permitting Abuse of a Minor.' Having once learned of the behavior, they recklessly allowed it to continue. This crime is a class D felony because the abuse consisted of sexual contact with a minor. The maximum penalty for permitting this type of abuse under Arkansas Code 5-4-401 is six years imprisonment and a $10,000 fine," said Johnson.
When it comes to former Arkansas state trooper Jim Hutchens, the couple said when they took Josh to the police station, Hutchens was simply assigned to them. "We didn't know anything about this guy except he was an officer there for the headquarters," Jim Bob told Kelly.
Yet according to In Touch, Hutchens tells a much different story:
He said he knew Jim Bob well from his job and had even taught a couple of classes to car dealerships with him. In addition, Hutchens -– who was not promised anything in return for his interview and told only that it was part of an investigation -– said that Jim Bob specifically sought him out to talk to Josh.

Asked who initially contacted him for the meeting, Hutchens said: "Jim Bob did." He then explained: "He called me by phone – he just said he needed to talk with me about a matter, he didn't explain what he got there." That interview was conducted before Jim Bob's comments were aired.
The list of lies and omissions continues and In Touch has listed seven that they found. These lies include stating they had not been warned ahead of time of the documents release, but public records show the police department gave the family notice before releasing the documents, an action they were not legally required to do.
The Fox interview was supposed to be the family's chance to clear up all the misconceptions and misinformation they claimed was out there about the case, but they clearly did a terrible job. In the end, they left us all with more questions than answers and through piling on lie after lie seems to show that there is much more to this story than they are letting on.
One thing remains clear after this interview. Jim Bob and Michelle Duggar are unfit to be parents and put their daughters in harm's way repeatedly, and now we know they are equally as ready to parade their daughters, the actual victims of these crimes, on national television to defend their pedophile brother.
(Image: Facebook)