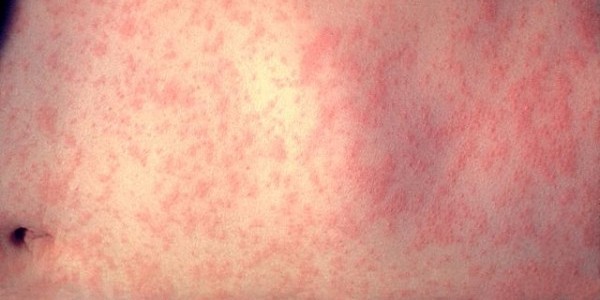 The measles outbreak that hit the US in 2014 brought the disease back into the national spotlight, sparking the next wave of vaccination debates around the country. Over 140 people were infected in an outbreak that started at Disneyland in Southern California and was linked to a number of unvaccinated individuals passing the disease along as they traveled the country.
Now, after 11 confirmed cases in Washington state this year alone, a woman has died of the disease. This is the first US death by the measles virus since 2003. While this case does not seem to be linked to the Disneyland outbreak, it does raise great concerns about vaccination rates and information in the US.
While it is reported that the woman had been vaccinated, it was confirmed she was taking medication that weakened her immune system, making her susceptible to the disease. The coroner did not say why the woman was on the medication.
The woman had made contact with a measles patient in a local health facility before the original carrier had shown signs of the diseases. Measles is extremely contagious, and the American Academy of Pediatrics says the disease is "one of the most highly communicable of all infectious diseases."
According to a story on National Geographic, "Any one case of measles can infect on average 18 other unvaccinated/unprotected people; the equivalent number for HIV is 4, and for Ebola is 2."
"Measles can be serious, even deadly, and in this case it was," said Dr. Anne Schuchat, director of the CDC's National Center for Immunization and Respiratory Diseases, discussing the Washington death. "As we have been telling people, we need to achieve very high rates of measles vaccination to protect the most vulnerable: babies and people who are immuno-suppressed. While measles can be deadly in anybody, it is more likely to cause this kind of complication in people with immune-suppressing conditions."
This case highlights the importance of high vaccination rates and herd immunity.
"This tragic situation illustrates the importance of immunizing as many people as possible to provide a high level of community protection against measles," said Donn Moyer, a spokesperson for the Washington State Department of Health. "People with compromised immune systems cannot be vaccinated against measles. Even when vaccinated, they may not have a good immune response when exposed to disease; they may be especially vulnerable to disease outbreaks."
And while vaccination rates are generally high for the MMR vaccine (the vaccine that covers measles, mumps and rubella), a
CDC study
found that many children are not receiving their vaccines on time.
"Despite a national MMR vaccination coverage level of 91.9%, one child in 12 in the United States is not receiving their first dose of MMR vaccine on time, underscoring considerable measles susceptibility across the country."
As the National Geographic article highlights:
"When people prevent or delay their children's vaccinations, it isn't only their children they put in danger. The fence of protection that vaccine-induced immunity throws up around all of us protects not only those who are vaccinated, but those who can't be: infants too young to get the vaccine and anyone who, like the Washington woman, possesses an immune system undermined by medical treatment or biological hazard."
Great steps were taken in California to help prevent cases like this when Gov. Jerry Brown signed a controversial vaccine law requiring all school children be fully vaccinated before attending classes. But it does not go far enough.
Parents must be educated on the effectiveness and safety of vaccines, and the misleading information being spread by the anti-vaccination movement must be countered and silenced. The false sense of fear being created when actors like Jim Carrey tell parents that vaccine toxins are dangerous and have deadly consequences misleads parents into skipping or delaying vaccines. As a result, viruses that had once been suppressed come back to haunt us all. And sadly in this case, someone lost her life.
Let's not lose one more life to entirely preventable diseases. Those of us able to be vaccinated hold a great responsibility to those who cannot. No person should go to a medical facility and contract a disease because others chose to skip vaccinations for all the wrong reasons.
[Image: Measles rash / CDC]