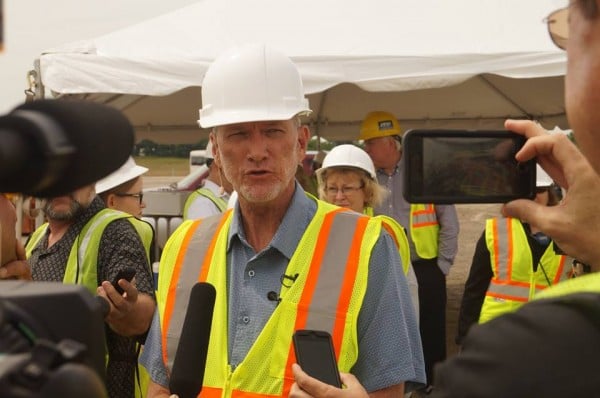 Ken Ham has a sick and twisted mind. You may remember a few months back he asked Miley Cyrus why, if she is sexually open to anything, she does not have sex with animals. Now, he is asking if that homosexuality is okay because it is seen throughout the animal kingdom, then why don't we eat our babies like some species do.
Writing on his blog in response to Bill Nye's video stating that homosexuality is more natural than many people think because we see it throughout the animal kingdom, Ham writes:
[I]f the animal kingdom is your guide for morality, then why not do everything that animals do? After all, some animals eat their babies, others eat their mate, some steal from each other, and others fight aggressively over a mate. And 90% of mammals have multiple mates. Should humans practice all of these behaviors?
Yet no one is suggesting that we get morality from the animal kingdom. Nye simply argued that homosexuality is natural because it is commonly seen throughout nature. Nye did nothing to argue the morality of homosexuality because, in reality, it is not a moral issue. The only moral issue is consent. Two people are engaging in a consenting relationship, and to argue that it is "unnatural" is dishonest when we have evidence stating otherwise.
Ham then continues, "Why is it that people appeal to the animal kingdom to legitimize homosexual behavior but not cannibalism or violence? This is incredibly inconsistent and it shows that the argument simply does not work."
Actually, this shows that Ham didn't understand the argument. Homosexuality is legitmized simply by the fact we understand it is a sexual orientation that one is born with, and we know it is natural because of the evidence of it throughout other species. Even if we discovered that sexual orientation was in fact a choice, homosexuality would still be legitimized by the consent.
This is why we base laws off of evidence and not biblical beliefs. Homosexuality was legitimate before the same-sex marriage ruling in the US and all that was legitimized was our governments acceptance of their unions.
Ham is unable to differentiate between religion and laws. The laws in the US are not based on the archaic text of his religious beliefs or his belief in some divine creator. Personally held beliefs are meaingingless in the eyes of the US Constitution when it comes to creating a country of equality.
"Homosexual behavior is wrong regardless of whether some animals have homosexual tendencies or not because our Creator says that it is wrong (Romans 1:18–32; 1 Corinthians 6:10) and it goes against God's created order (Romans 1:26–27)," he writes.
All this really says is that Ham should not enter into a homosexual relationship because he personally thinks it is wrong. He fails to understand however that whatever he believes in is meaningless to anyone else in the world.
Sorry, Ken, but the argument stands. Homosexuality is as natural as your heterosexual relationship. If you think that equates to the condoning of eating babies, you should be seeking medical help.
[Image: YouTube screen capture]