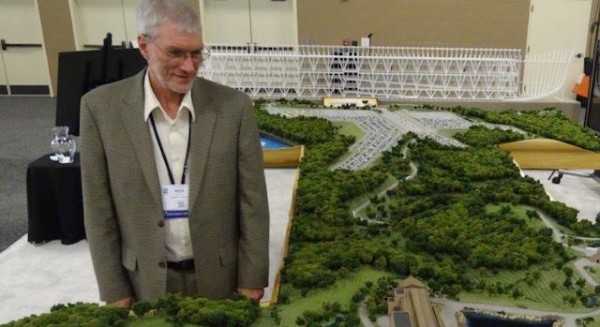 Wednesday morning marked the beginning of the federal court case brought against the State of Kentucky by Answers in Genesis over the 18 million dollar tax incentive that the state revoked late last year.
Tourism officials "took this reflexive, kind of allergic reaction to religion" when it rejected the ark project's participation in the tax incentive program in December, said Louisiana State Representative Mike Johnson, who is also the lawyer for Answers in Genesis. The incentive program offers those eligible a tax refund at the end of the year on sales tax collected.
"They want all comers to believe what they believe — which is fine — but we don't have to fund it," said Virginia Snell, a Louisville lawyer representing the state in the case.
The state had initially granted the project enrollment into the program but later revoked it when it was discovered that Ark Encounter employees would be forced to sign statements of faith and that the job description described the park as a ministry.
The state has asked that U.S. District Judge Greg Van Tatenhove dismiss the lawsuit. Though it seems he may not be on the states side here.
Van Tatenhove said during a hearing Wednesday that the state's tourism incentive is "content neutral," and it doesn't matter if an applicant for the sales tax rebate has a religious purpose.
"There is a public purpose here, and it's tourism," said Van Tatenhove.
The Constitution seems to disagree with Van Tatenhove who thinks taxpayer money is okay to be used for blatant religious ministry and employee discrimination.
Based on the discrimination of employees alone the judge would be right to throw the case out and not even hear it. The Ark Encounter is not a religious non-profit and instead chose to incorporate as an LLC meaning they are subject to secular constitutional laws, both state and federal.
In an email conversation with Gregory Lipper, Senior Litigation Counsel for Americans United for the Separation of Church and State he stated:
"We think that the law is clearly on our side – taxpayer funding for the expansion of Answers in Genesis's religious ministry is unconstitutional. Even if the Commonwealth were allowed to fund Ark Park, the Supreme Court's decision in Locke v. Davey makes clear that the Commonwealth is not required to fund it. So there are two paths to deciding this case, and each one cuts against requiring taxpayers to fund a proselytizing museum."
Ken Ham has not returned a request for comment.
[Image: Creation Museum]