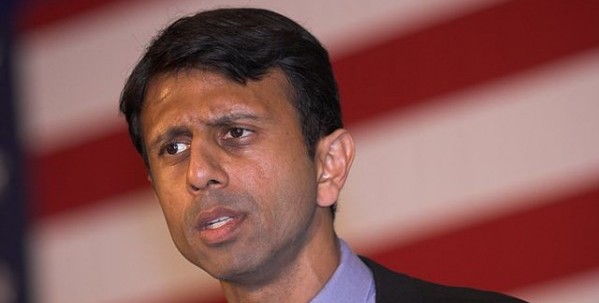 After yet another mass shooting, this time in Lafayette, Louisiana, Governor and Republican Presidential candidate Bobby Jindal dodged questions about gun control, something he has vocally opposed in the past.
"There will be an absolute appropriate time for us to talk about policies and politics, and I'm sure folks will want to score political points off this train as they've tried to do off previous tragedies," Jindal said. "Let's focus on these families."
You want to focus on these families, yet you don't want to answer questions about what can be done to make sure there are not even more families grieving.
The reporter who was speaking to Jindal did not waver.
"You want to be the leader of not only the United States but of the free world," the reporter continued. "What would you do different to stop these things from happening all over the country?"
Yet Jindal insisted it was not the time to have this discussion again and said he would be open to the discussion, but not now.
"I'm happy to talk about this but not here, not now. Now is the time to grieve, mourn, come together and show Lafayette's resilient and we can get through this," Jindal said. "I'm not shy of providing my opinions on any topic, but right now let's actually focus."
Yet when there is on average a mass shooting every day in the US, when is the right time to have this discussion? Politicians owned by the NRA deflect this question and turn to our constant state of mourning — mourning we could avoid if we took a progressive approach to gun control laws in the US.
No other industrialized nation would stand by and watch 204 mass shootings in 2015 alone and do nothing. Yet here we are, watching more families bury more loved ones because we have a government afraid to act.
Jindal is a coward, who while having zero chance of being elected President is still playing the political game and is willing to continue to put lives at risk rather than have the guts to stand up to the gun lobby and fight to save more of his state's citizens from senseless and preventable acts of violence.
As long as the NRA keeps paying them to stay silent, it will never be the time for politicians to talk about gun control.
[Image: dsb nola / Flickr / Creative Commons]