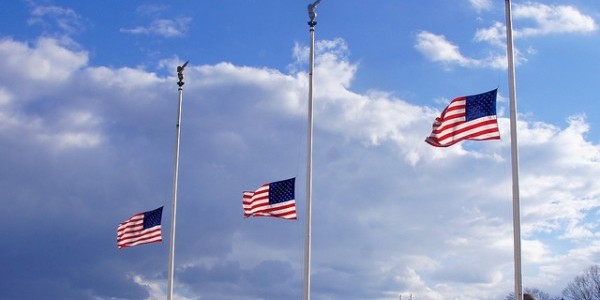 A Republican-filled county commission in Missouri voted 3-0 to lower the American flag to half-staff on the 26th of the month for an entire year of "mourning" after the Supreme Court's gay marriage decision.
The flag will begin flying half-staff at the Dent County Courthouse and Judicial Building starting this month, ending in June of 2016.
In a letter filed into the record ahead of the vote, presiding Commissioner Darrell Skiles wrote that "the U.S. high court's [sic] stamp of approval of what God speaks of as an abomination."
Skiles continued, saying that "all who see these flags at this lowered position be reminded of this despicable Supreme Court travesty" and wrote this is reason enough to support his plan.
Their vote and decision came shortly after Gov. Jay Nixon signed an executive order directing all state agencies to comply with the court's ruling.
At least the local Recorder of Deeds, Cindy Ard said she would still issue licenses and would not discriminate.
"Some people might not agree with it, but I'm not going to discriminate. I'm not here to judge anybody," Ard told the local paper.
I am not sure if the State Government can overrule such a decision, but you would imagine they would want to and save themselves the embarrassment that is now Dent County.
Update: It seems they have changed their minds.
[Image: Ted Eytan / Creative Commons]