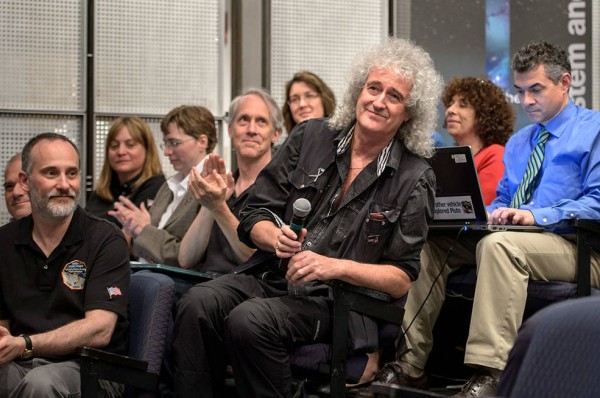 This is common knowledge to many, but still really cool. Brian May, the famed guitarist from Queen, finished his Ph.D. in astrophysics in 2007. He began work on the degree 36 years ago, but it was put on hold when his band blew up and made him a world-famous rock star.
Well a few weeks ago when NASA's New Horizon space probe flew past Pluto, May was on hand to help NASA interpret the data.
"The Gods of the Underworld must have been with me, because I was there when the first…full-planet picture was downloaded from the probe," May wrote on his blog.
According to the Smithsonian, the images you see everywhere of Pluto is the work of May himself.
In addition to sifting through some of the images and information gleaned from New Horizons, May compiled the first high-quality stereo image of Pluto. Single-lens cameras produce images that look as if you just covered up one of your eyes, but a stereo photograph can appear to be three-dimensional with the help of a stereoscope.
"Of course the New Horizons guys were already doing serious science on this image as it arrived," May wrote. "But I was able to assemble the two images to make the most satisfying stereo view I can ever remember making."
While at first this just seems like a story of someone having it all, no level of rock-star fame by itself qualifies someone to be an astrophysicist. May had to put in some serious work to reach the level he did, especially after leaving academia behind over 36 years ago.
This story should be seen as inspirational and serve as a reminder that it is never too late to go out and reach your goals.
[Image: NASA/Joel Kowsky/Public Domain]