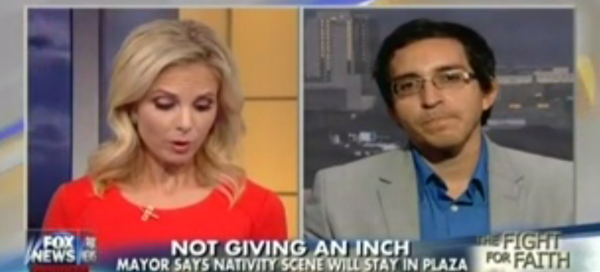 Here I am thinking it's only August and I still had at least four more months before I had to suit up and wage a war on Christmas.
However, according to Fox News host Elizabeth Hasselbeck, the war has already begun. She is referring to a case in Belen, New Mexico, where the Freedom From Religion Foundation is working to stop the city from displaying a Christian nativity scene on public land.
"The war on Christmas typically comes, well, in the winter, near December, but this is coming a little bit early," Hasselbeck pointed out. "But this isn't even about a seasonal issue. This isn't a nativity that comes up for Christmas. This has been part of your people's history there."
Belen's mayor, Jerah Cordova is furious over the actions from Freedom From Religion, pointing out that the city's name is Spanish for Bethlehem, believing this alone gives it the right to display the religious scene and told Fox the city will go "as far as we can" legally speaking to keep the nativity from being moved to private property.
You can watch the video below courtesy of Media Matters.
[Image: Fox News screen capture]
[h/t: Raw Story]