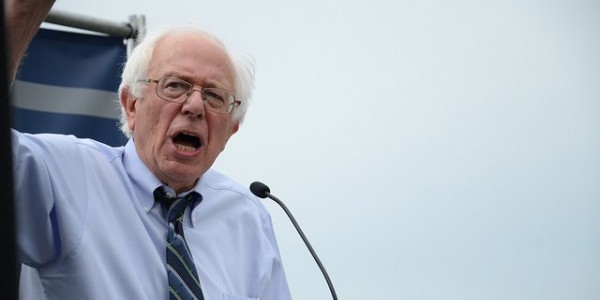 Democratic presidential candidate Bernie Sanders has been struggling with #BlackLivesMatter activists as of late. After skipped a meeting with protest organizers, opting to send his campaign manager instead, a speech at a progressive conference was interupted by activists.
The activists wanted Sanders to speak out more bluntly against race relations in the U.S. instead of only discussing the economic policies that disenfranchised African-Americans and to also stop touting his civil rights activism from the 1960 and to say the names of the many black men and women killed by law enforcement in recent years.
"When I mention a few names, like Sandra Bland or Michael Brown or Rekia Boyd or Eric Garner or Walter Scott or Freddie Gray or Tamir Rice or recently Samuel DuBose, you know and I know that unarmed African Americans have been shot and killed by police forces in a way that never would have happened if they were white," Sanders said to a crowd in Franklin, New Hampshire. "We need to move away from the militarization of the police forces."
The Franklin crowd was notably white says the Washington Post, but it erupted in applause for his statement.
"Police in Ferguson looked like an invading army," Sanders told the Franklin crowd referring to the shooting of Michael Brown in Ferguson, Mo. "I was a mayor for eight years, and I know police a little bit. It's a very difficult job they've got. But when we do it the best way, we have community policing. Police are part of the community. They are not seen as oppressors."
His new message comes after reaching out the activists he had previously shunned and asking them for their thoughts on police reform. He was also the only candidate to accept an invitation to speak at the Southern Christian Leadership Conference, discussing the death of Sandra Bland and the need for body cameras.
He later addressed the national conference of the Urban League where he said, "Violence and brutality of any kind, particularly at the hands of law enforcement sworn to protect and serve their communities, is unacceptable and must not be tolerated," he continued. "We must reform our criminal justice system. Black lives do matter, and we must value black lives."
Sanders who has long been a civil rights activist was losing his message throughout his campaign because he wants to stay focused on economic issues which have been his main campaign platform. However, by staying too focused on a single issue he has been seemingly quiet on other big issues and voters are looking for answers.
By finally speaking out and standing up for racial oppression and looking to the #BlackLivesMatter movement for advice and help, Sanders is showing he is the candidate who cares about American's opinions and their voices.
It seems the quiet, economic only Sanders is a thing of the past, speaking in Clairmont, New Hampshire, he delivered a much clearer stance.
"You know these names," he said. "You know these names because some of these people were murdered by police officers. And they would not have been murdered if they were white."
[Image: AFGE / Flickr / Creative Commons]