My next book, Facing Oblivion: Essays on Life, Death and Grieving from a Nonbeliever, is now available on the Amazon Kindle as a pre-order item. It will be, like my past two titles, published by Atheist Republic. I discuss topics surrounding the meaning of life and experiencing death and grieving from a nonbelieving point-of-view.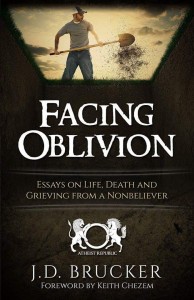 The book officially releases September 22nd and the paperback will be available some time afterward. The synopsis goes as such:
Life is an amazing thing, filled with happiness, optimism, sadness and pain. Theists have said atheists are incapable of experiencing the beauty of life because they do not believe in a god. Furthermore, theists have said the grieving process is ruined because atheists generally do not believe in an afterlife.

In his fourth book, Facing Oblivion, J. D. Brucker argues against those claims to show it's possible to live fruitfully and grieve properly without a belief in a god.
If you wish to check it out, follow the link below!