The conservative meltdown in Springfield, Missouri over Free the Nipple rallies has reached epic proportions. I live in Springfield and have been closely following the events of what some in the media have dubbed "The Nipple Wars."
As I reported last month, when local activists organized the rally to bring attention to the unequal treatment of women, local City Councilman Justin Burnett proposed a more stringent indecency ordinance as a way to combat the rallies. Burnett has continuously claimed that the new law would make Springfield more "family-friendly" and "prevent the exploitation of women and children." The new ordinance specifically targets women, requiring them to cover up more of their bodies than before.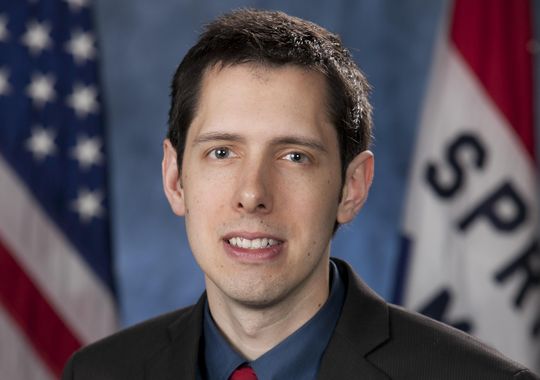 In other words, the rally worked.
During the first reading of the bill, the morality police came out in force to speak on its behalf. One speaker read from Genesis during the city council meeting, then made some incoherent statement about the bible wanting people to be covered. Another speaker claimed that if the City Council didn't pass the ordinance, then Springfield would feel the wrath of God. Since God's wrath is notoriously indiscriminate, he believes everybody's interests are best served by the City Council diligently working to placate the all-powerful and loving destroyer of Sodom and Gomorrah.
The City Attorney, Dan Wichmer, tried to explain to the city council that even if they passed the new ordinance, it wouldn't apply to the rallies because of a little thing called the first amendment. He cautioned that attempting to stop the rallies would open up the possibility of a first amendment lawsuit being filed against the city, potentially costing thousands of dollars.
Councilmembers Justin Burnett and Kristi Fulnecky weren't interested in being told they were wrong, with Fulnecky quipping, "the city gets sued all the time."
To the surprise of absolutely nobody, the ordinance passed 5-4 during the city council's meeting on September 14th. Burnett and Fulnecky have made it clear that they believe the ordinance can be used to stop the rallies despite what the city attorney said to the contrary. Mayor Robert Stephens called the Free The Nipple protesters "losers" and described the Free the Nipple rallies as an "epic fail."
Well, maybe not. The council would have been wise to listen to Wichmer.
Though they may have won a small victory by passing their more strident ordinance, the reactionary conservatives in Springfield are a long way from delivering a fatal blow to Free the Nipple. The ACLU has been watching the goings-on in Springfield and is now involved. I spoke with the ACLU about the potential lawsuit and they asked me not to go into details, but what I can say is that the legal group has been in contact with Free The Nipple organizers and is exploring different options to remedy to the council's overreaction.
It's almost like City Attorney Wichmer has a crystal ball.
[Image: Justin Burnett / Facebook photo]