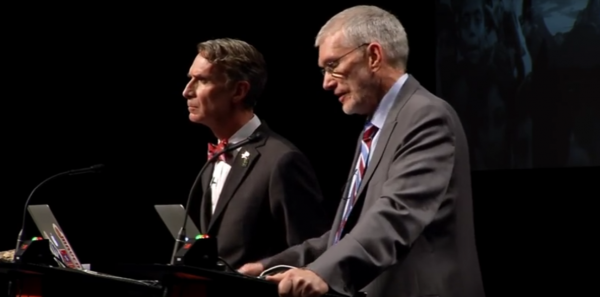 Never one to disappoint with the crazy, Ken Ham is once again after Bill Nye.
This is becoming a weekly thing.
This week, Ham is upset that Bill Nye has a documentary coming out about his life.
Well, in addition to his new book, Bill Nye "the Science Guy" is also reportedly going to be featured in a documentary about his life and work. One website describes the documentary as "a film for science. A film for the cosmos. The full access, exclusive film about Bill Nye." Really it should be called "a film for the religion of naturalism. A film to promote worship of the cosmos. An exclusive film about the very religious Bill Nye." Yes, it will be a religious film!
Once again, Ham is using religion as an insult. I don't think he gets irony.
But the lunacy doesn't stop there. Not only does Ham think a documentary about Nye's love of science is a religious film, he also thinks Nye is afraid to link people to the free YouTube video of the Creation debate he had in 2014 because it would expose people to the "truth about creation."
When discussing that Nye is offering personal notes from the debate in return for funding of his Kickstarter campaign, Ham writes:
So they will give you Bill Nye's notes from our 2014 debate if you donate, but nowhere have I seen Nye directing people to the free YouTube video of the unedited debate or the DVD (which he has the rights to use). Maybe he doesn't want people to actually watch the debate because then they will be exposed to the truth of creation and the gospel of Jesus Christ!
Or perhaps Nye or the filmmakers to be exact are trying to keep people on the Kickstarter page so that they donate and not leave the page. A very common marketing rule of thumb.
Ham then issues a challenge to Nye, encouraging him to sell the DVD by providing a link to Answers in Genesis store so that Ham, of course, can continue to profit from the debate.
Given this, I still stand by 2014 op-ed in which I argued that Bill Nye should never have debated Ken Ham.
[Image: YouTube video screen capture]