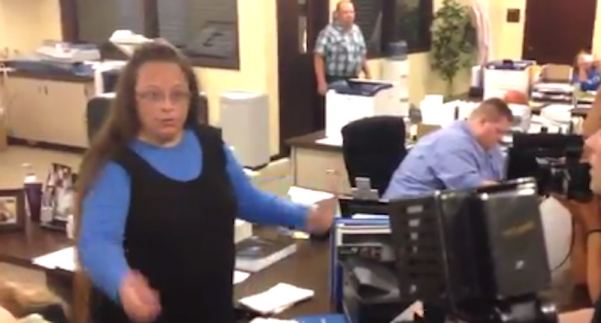 Only moments after being released from a Kentucky jail, County Clerk Kim Davis' lawyer said his client would continue her fight to stop same-sex marriage licenses from being signed.
U.S. District Court Judge David Bunning issued an order Tuesday morning stating that Davis would be released from custody under the condition that she "shall not interfere in any way, directly or indirectly, with the efforts of her deputy clerks to issue marriage licenses to all legally eligible couples."
Davis was taken into custody last week after she was arrested for contempt of court when she refused to follow a court order to issue same-sex marriage licenses following the Supreme Court ruling that legalized same-sex marriage in all 50 states.
The problem is, according to her lawyer, she isn't going to follow the conditions set by the judge and will likely end up back in a jail cell.
"The problem here is that the attorney says she has not changed her mind, that Kim Davis is adamant that as long as her name appears on those marriage licenses, she objects and she will attempt to stop those licenses from being distributed," CNN's Martin Savidge reported. "Which means if she goes back on the job as is expected, she will bring the process to a halt. That's what her attorneys believe."
"They have said they expect her to go by her conscience which means we may go through this all again," Savidge said.
The reality is that Davis should not have been released in the first place. She was released and ordered to stay away from marriage licenses, which are a big part of her job as county clerk. So in the end, she was released from jail and ordered to not do her job.
Unless she agrees to sign and approve marriage licenses or resign from her job, she should still be sitting behind bars.
Davis is insisting her name be removed from marriage licenses, something she can have if she does the right thing and resigns.
[Image: Video screen capture]