Kentucky's Kim Davis, a county clerk who was recently jailed for refusing to issue same-sex marriage licenses was awarded the Cost of Discipleship Award by the Family Research Councel at this year's Values Voters Summit. During the award ceremony, Mat Staver, chairman of the Liberty Counsel praised Davis courage and then made the claim that in Peru, 100,000 people showed up for a prayer rally in Davis' honor.
Well, Zack Ford over at Think Progress decided to really dig into this claim and what he found is exactly what one would expect. Mat Staver and Liberty Councel lied about this prayer meeting and even tweeted out a photo of the meeting (below) that was taken from a 2014 event.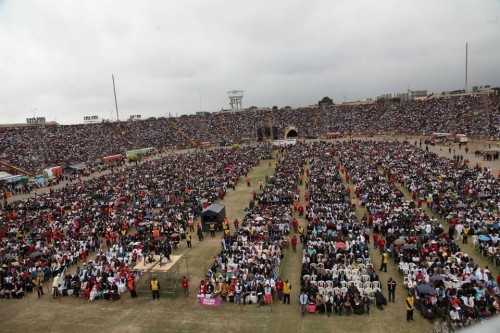 Ford writes:
There is not a single news story about a prayer rally taking place in Peru for Kim Davis. There is not a single post on Rosas' Twitter or Facebook about such a rally, though he did send one tweet of support for Staver's defense of Davis. And the image is almost certainly from a prayer rally known as "Jesús Te Ama Y Te Cambia" ("Jesus Loves You And Changes You), which did take place in Peru — over five days in May, 2014.

Internet sleuths, including Twitter user @DCHomos, quickly identified the stadium as the Estadio Universidad Nacional Mayor San Marcos at the National University of San Marcos. Then, a number of videos seemed to quickly confirm that the image shared by Staver and Barber was from the 2014 convention organized by the pentecostal Movimiento Misionero Mundial (Worldwide Missionary Movement).
To further prove the claim false, Ford even has videos from the 2014 Jesus Loves You event that highlight visible cues from the image above.
The American people are not getting behind Davis like Liberty Councel and other religious leaders had hoped and are likely trying to make it seem as though the world is behind her. Sadly for them, most people are not going to simply accept a tweeted image as proof of such an event and thankfully we have journalists like Zack Ford who will do the work to expose such nonsense.
Liberty Councel has a history of dishonesty to push their claims of religious persecution and this incident is no different.
Lying is apparently a sin, unless, of course, you are lying for Jesus.
[Image: Twitter/@JMATTBARBER]