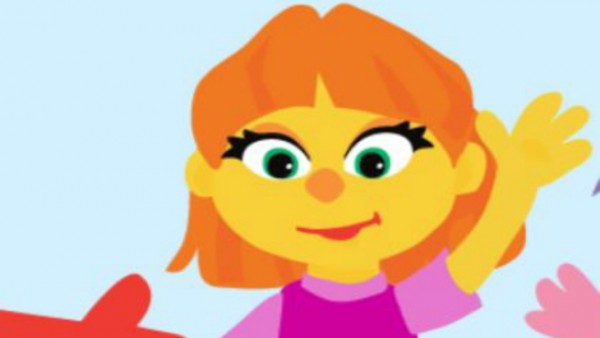 The iconic children's show Sesame Street is debuting a new character named Julia, who happens to have autism. This, of course, is a great way to teach children about autism and in a sense "normalize" it for those who are unfamiliar with or have misconceptions about it.
But of course, anti-vaccine lunatics think it has a much more sinister message, to normalize "vaccine injuries."
"The rollout of autistic Julia is Sesame Street's attempt to 'normalize' vaccine injuries and depict those victimized by vaccines as happy, 'amazing' children rather than admitting the truth that vaccines cause autism in some children and we should therefore make vaccines safer and less frequent to save those children from a lifetime of neurological damage," wrote Mike Adams, of the conspiracy theory website, Natural News.
The character caused its own controversy for being female, because males are far more likely to have autism, and her autism is fairly mild, so some feared the important message could be lost if children are not getting a more accurate depiction, but those are mild complaints compared to Adams' outright lunacy.
"Yet another sickening example of the absolute mental derangement of modern society," said Adams.
It's amazing that he doesn't see the autism shaming he is doing by minimalizing anyone with autism to a puppet for the pro-vaccine public. Yet he is not alone in this ableism.
Comments on the Vaccine Resistance Movement's Facebook page shared this hatred of those with autism.
"I'm so glad I'm not the only one who thought this!! I was like why in the world is everyone celebrating this?!!" posted Lindsay Serrahn. "Normalize autism! It's not normal, it's cruel that vax companies help cause this and then it's oh this is normal."
Adams even managed to tie in #BlackLivesMatter into his campaign to kill children with polio when he added:
"In the name of 'vaccine science,' they actively altered data to eliminate the statistical link between vaccines and autism in African-American boys, thereby condemning millions of young black babies to a life of permanent neurological damage. #BlackLivesDONTmatter to the vaccine industry, it seems."
It seems no lives matter to the anti-vaccine advocates who are willing to shame those with neurodevelopmental disorders and to exploit the lives of the racially disenfranchised all to make sure children never receive life-saving vaccines.
[Image: PBS / Video screen capture]