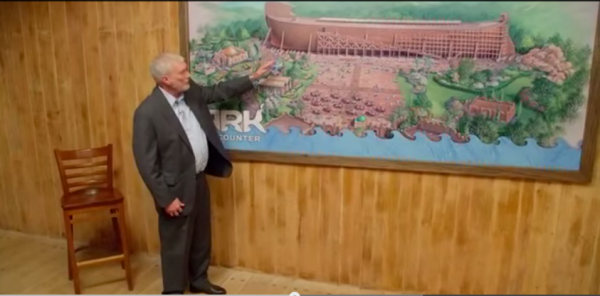 It is common knowledge at this point that the folks over at Answers in Genesis and the Ark Encounter are dishonest. It is even clearer now, after Ken Ham went in front of city officials and touted already disproven attendance numbers to boost political excitement about the park.
Speaking to the Northern Kentucky Chamber of Commerce on Tuesday, Ham said the Ark Encounter would have between 1.4 and 2.2 million visitors a year. He also said it would create 21,000 new jobs over the next 10 years.
"We know that people will want to come and see this," Ham said. "And our head researcher says it will be more in the 2 million range.

"And the ultra-conservative estimate on the economic impact is more than $4 billion, and we think it will be more than that."
Except the state already commissioned an estimate from Hunden Research, an outside source, and found that the realistic projections are much, much lower.
As I reported in an earlier blog post:
Ed Hensley of the Kentucky Secular Society got ahold the of the report through the Freedom of Information Act and emailed it over to me.

The Ark Encounter estimated that they would see 1.2 to 2 million visitors per year. However, Hunden estimated in the first year the park would receive roughly 325,000, with a peak attendance in the third year around 425,000, declining to 275,000 after that.
Ham's estimates are from America's Research Group, which is owned by Britt Beemer, who co-authored two books with Ken Ham. Talk about a conflict of interest.
In another post, I dissected ARG vs Hunden to compare the two companies and how seriously we should take them:
Now there are two things to look at here.

First, this is in fact a major conflict of interest. Ham has a long working relationship and seemingly a personal relationship to the extent he would put the man who runs the corporations name on his book. If they did research for a book, he would cite that research inside the book, not put the owners name on the cover. So the excuse Ham is using does not add up.

Second, is ARG actually highly credible? Well, maybe in the field they actually do research in. You see, the focus on retail marketing strategies and nowhere on their site do they even allude to the fact they offer such a massive service as surveying potential theme park visitors or the economic impact of a tourism attraction, in fact this is their whole list of services:

Market overviews

Brand images
Shopping patterns
Channel preferences

Customer perceptions

Current views, ratings, image
Likes and dislikes
Loyalty and outlook

Competitive analysis

Real vs. Perceived
Competitive customers' characteristics/profile
Offensive/Defensive strategies

Merchandising techniques
Product reviews
Marketing strategies
Targeted advertising

Yet Hunden Strategic, right on the main page of their website, lets you know exactly what they do for a living:
Whether you represent a public agency, tourism bureau, lending institution or a private developer, Hunden Strategic Partners provides you confidence and results via the integrity of our feasibility studies, economic and fiscal impact analyses, development strategy, solicitation processes, and related services.
This is why the State of Kentucky hired Hunden. This is their business. This is what they do.

ARG lists under recent research:

Walmart vs. Dollar Stores

Home Depot & Lowe's

Department Stores

Back-to-School

Credit Card Spending

Promotional Activity

Drugstores

Sporting Goods

Footwear

Electronics

Auto Parts

Gas Prices

Hard hitting stuff. Walmart vs. Dollar Stores. They don't even boast about the massive theme park project they worked on.

So no, no one is going to take the ARG report seriously. They are not only underqualified to conduct such a study, but they have direct personal ties with AiG and Ken Ham and have every reason to pad the results. No one wants to upset their friends.
What makes this so frightening is that it seems local officials are unaware of this discrepancy.
According to USA Today:
NKY Chamber President and CEO Trey Grayson said he knew the project would have a positive economic impact on the region beforehand, but the latest numbers still surprised him.

The numbers are "certainly bigger than I thought," Grayson said. "It's pretty amazing. Even if they are half off, it could be transformative to our region and further develop Grant County as part of that corridor between Northern Kentucky and Lexington."
Ham is fighting hard to get politicians on his side while AiG awaits a court verdict on their suit against the state for denying them $18 million in tax credits to help complete Phase Two of the park after the state discovered that the Ark Encounter was discriminating against potential employees.
It's scary to see how much misinformation Ham is able to push to the media and local politicians in his attempt to gain respect for a theme park that celebrates the genocidal elimination of the world's population, albeit fictional.
[Image: YouTube screen capture]