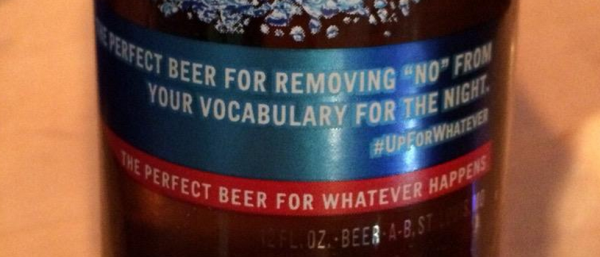 In a story covered here back in April, Bud Light ran a bizarre ad for its #UpForWhatever campaign with a label reading "The perfect beer for removing 'no' from your vocabulary for the night."
They were quickly labeled the official beer of rape culture, but the company remained quiet on the label, until now, saying they "missed the mark" on this ad.
"It's clear that this particular message missed the mark, and we regret it. We would never condone disrespectful or irresponsible behavior," Lambrecht said. "As a result, we have immediately ceased production of this message on all bottles," said Alexander Lambrecht of Anheuser-Busch, which owns Budweiser, apologized in a statement on Wednesday.
How this label ever made it through quality control is beyond me. It reeks of rape references and should have been flagged by someone in the organization.
However, it doesn't seem like the company has the best team of marketers in touch with today's society because just before this campaign went live they ran another one on St Patrick's Day tweeting that people could "pinch people who aren't #UpForWhatever."
[Image: Twitter]