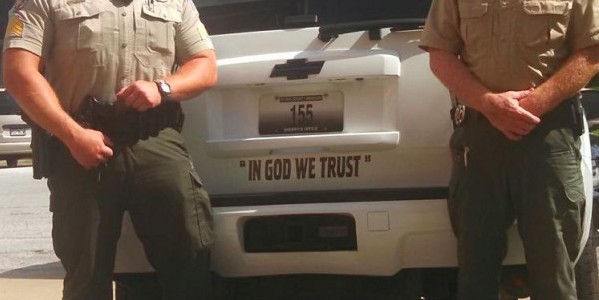 Law enforcement agencies and local governments across the south and midwest cannot get enough of showing off their overly-nationalistic mentalities, and since "America, Fuck Yeah!" would be unprofessional, agencies from south Texas to northern Missouri have chosen In God We Trust as their preferred substitute. It is a trend that has gone viral.
These government agencies plaster the supposedly nonreligious phrase all over their vehicles and call it "patriotism" or "representative of their commitment to the community." In reality, nearly all of the sheriffs and police chiefs making a show of the phrase are right-wing, tea-partyesque, Jesus lovin', gun totin' fundamentalists. They are the kind of people that make Ken Ham feel all warm and fuzzy inside.
For anyone concerned with secularism, but not aware of the extent of the problem, The Original Motto Project has put together a handy map of every single sheriff's department and police department in the country that displays the obviously theistic motto. The Original Motto project is a nonprofit based in Washington state that opposes the use of In God We Trust and wishes to replace it with the original, less divisive motto E Pluribus Unum. You can check out the map here and also get the addresses for the agencies, should you feel like penning them a love letter.
Soon to come is a map displaying all the city and county governments that display the offending motto, but that may take some time to put together; according to Robert Ray, National Director for The Original Motto Project, there are over 600 agencies to list. Needless to say, he has his work cut out for him.
[Image: In God We Trust decal on Stone County Missouri Sheriff vehicles via Stone County Sheriff's office]