Answers in Genesis continues to post job openings for the Ark Encounter in an attempt to skirt the law that requires the for-profit theme park to follow state and federal guidelines in its hiring practices.
Previously two other job openings for the park have been run through the parent company, AiG so that they could require applicants to sign statements of faith as I have detailed in the past.
This is a law as stated by the U.S. Equal Employment Opportunity Commission:
Religious discrimination involves treating a person (an applicant or employee) unfavorably because of his or her religious beliefs. The law protects not only people who belong to traditional, organized religions, such as Buddhism, Christianity, Hinduism, Islam, and Judaism, but also others who have sincerely held religious, ethical or moral beliefs.
And then plainly states:
The law forbids discrimination when it comes to any aspect of employment, including hiring, firing, pay, job assignments, promotions, layoff, training, fringe benefits, and any other term or condition of employment.
This new job posting is no different as the listing is careful not to mention that it is an Ark Encounter job, but the city listed, Williamstown, KY is the theme park's location. (Kudos to Tracy Moody on spotting the new posting.)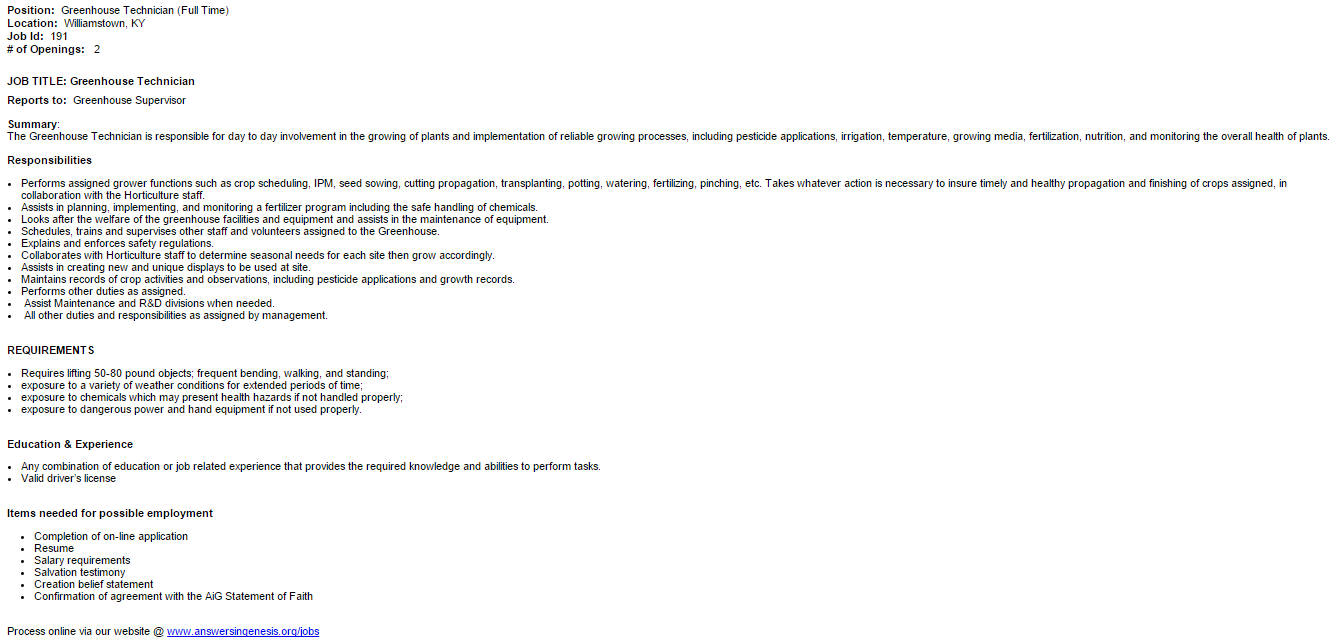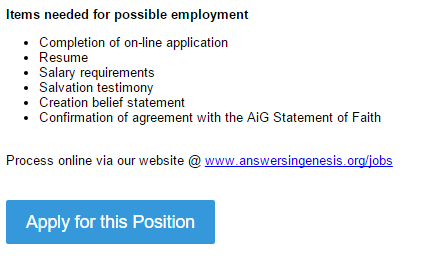 When asked about the legality of hiring Ark Encounter positions through the non-profit parent company, lawyers for Americans United for the Separation of Church and State said:
Both federal and Kentucky civil rights laws contain exemptions for religious organizations from laws prohibiting employment discrimination based on religion.  If an employer is a for-profit employer, this lessens the likelihood that a court will find that the employer is eligible for these exemptions.  That's probably why the hiring is being done by AIG, not the Ark Encounter.  I don't know of any law that makes this technique illegal on its face.  However, the fact that the work will actually be done for a for-profit entity – the Ark Encounter ­– makes it less likely that a court would ultimately find that the religious employment discrimination is legal.  The fact that the employment is being supported by a tax subsidy also would weigh against a conclusion that such discrimination is legal.
This hiring discrimination is coupled with the continued allowance of a $62 million bond and a 75% tax credit on property taxes that I reported on in 2014, show that the project is in strict violation of both state and federal laws.
On top of that AiG is still breaking the law by collecting tax-deductible donations on behalf of the for-profit park.
In 2014, the Freedom From Religion Foundation sent a letter to the IRS asking that the park be evaluated because of its illegal collection of donations through its non-profit Answers in Genesis.
In the letter, FFRF shows that:
Answers in Genesis (AiG) is a Christian fundamentalist group that advocates a literal interpretation of the bible, and owns the Creation Museum. Through a subsidiary nonprofit, it also owns Ark Encounter, a for-profit LLC, and has fundraised extensively for the park.

Donations to AiG, a nonprofit, are tax-deductible, while donations directly to Ark Encounter, a for-profit company, would not be. But AiG fundraising materials include a space for donations to Ark Encounter, and note that donations are "tax deductible to the fullest extent allowed by law." On the AiG website, donors have the option to designate contributions to Ark Encounter.

A separate Ark Encounter website also states that sponsorship is tax deductible.

Thus it appears that AiG is taking tax-deductible donations and directly giving them to Ark Encounter, LLC, noted FFRF Staff Attorney Patrick Elliott.

Nonprofits can run for-profit companies that are related to a charitable purpose, including a religious purpose. But, in order to obtain tax breaks, AiG has taken great pains to assure the state of Kentucky and other government entities that Ark Encounter will be operated as a private, for-profit business. The Ark Encounter website admits, "The for-profit LLC structure also allows the Ark Encounter to be eligible for various economic development incentives that would not have been available with a non-profit structure."
And this violates the law as FFRF shows:
"Answers in Genesis cannot have it both ways," said FFRF Co-President Annie Laurie Gaylor. "Either the Ark Encounter is a religious enterprise and is eligible for tax-exempt donations, or AiG and Ark Encounter can be taken at their word that the park is purely a commercial enterprise." In the latter case, then AiG is not "'operated exclusively for religious, charitable, scientific' or other exempt purposes," as required for exempt status, and should lose its tax exemption, FFRF contends.

"While religiously themed, a 'theme park' is quintessentially a commercial entertainment activity and not charitable," wrote Elliott. "Ark Encounter representatives have said that from an operational standpoint, the project will 'have the look and feel of any other theme park.'"

"Based on information that is publicly available about the operations of both organizations, they are not operated exclusively for exempt purposes," concluded Elliott, asking the IRS to investigate the operations and tax-exempt status of AiG.
These are clear, multi-violations against state and federal laws and yet the new Gov. Elect of Kentucky actually says he supports giving the project back the $18 million tax incentive that was taken away almost a year ago.
All the claims are being monitored by Americans United and every legal avenue to stop any and all taxpayer money being used on this project is being examined and acted on.
Developments like these just reaffirm that AiG and Ken Ham are lying directly to the state and to taxpayers about their financial involvement in this park and the illegal hiring practices they company is using.
[Image: Answers in Genesis]
[Some of the work in this post has been previously posted on this blog.]