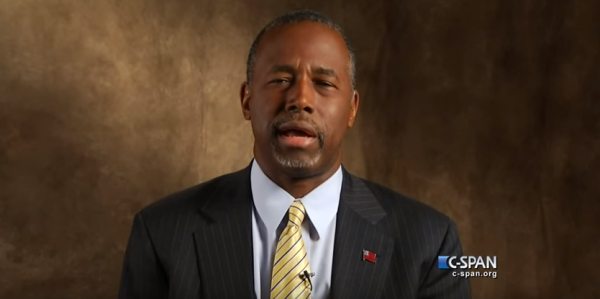 Republican presidential nominee, Ben Carson was interviewed as part of C-SPAN's "Road to the White House" series which aired Sunday and the retired neurosurgeon wrongly credited Thomas Jefferson for writing the U.S. Constitution.
Most elementary school students can correctly tell you that Jefferson, the nation's third president actually led in the writing of the Declaration of the Independence, not the constitution.
"I'm impressed by a lot of them, but particularly impressed with Thomas Jefferson, who seemed to have very deep insight into the way that people would react," Carson said. "And he tried to craft our Constitution in a way that it would control people's natural tendencies and control the natural growth of the government."
Carson seems to struggle with U.S. history, as this is not his first blunder. Carson has also stated the founding fathers had "no elected office experience."
Watch the video below, courtesy of SPAN.
[Image: CSPAN/YouTube vide screen capture]