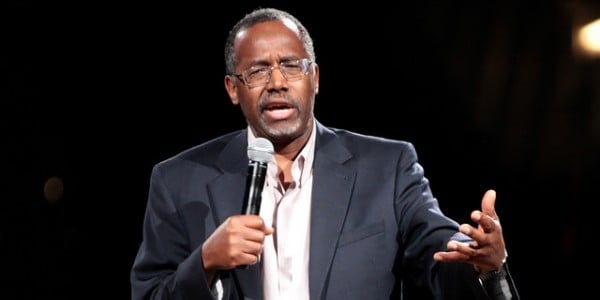 Ben Carson has another scientific explanation for the U.S. Man walked on the moon because Americans believe in God.
"Now I want you to think about something," he says in a video published by the Adventist News Network. "This nation has had a profound effect on the world. Before the United States of America came on the scene, for 100 years, 200 years, a 1,000 years, 3,000 years, people did things the same way… within 200 years of the advent of this nation, which believed in God, men were walking on the moon. Completely revolutionized and changed the world because a nation was willing to acknowledge God."
Yes, forget science, NASA, the years of research and experiments. It was all because we claimed to be a nation of God that we made it to the moon.
He even went as far as to claim the U.S. is founded upon God, citing the Declaration of Independence as proof.
"Here's what is also fascinating," the Republican presidential candidate said. "This nation — the United States of America — one of the few nations in history to claim God in their founding documents — we talk about in our Declaration of Independence certain inalienable rights given to us by our Creator, every one of our coins, every one of our bills says 'In God We Trust.'"
You can watch the video below via Raw Story.
[Image: Gage Skidmore / Creative Commons]