French President has issued a state of emergency and began closing borders and deploying troops.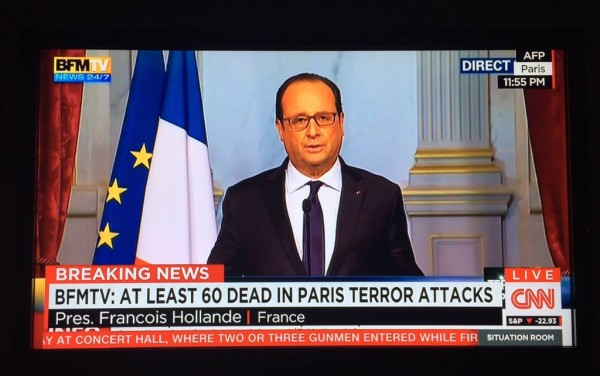 France is under a state of emergency as declared by French President Hollande who ordered the country's border closed and sent the military into Paris following several coordinated terrorist attacks that included mass shootings and bombings, resulting in the deaths of over 120 people.
One such bombing was a suicide bomb attack outside a soccer stadium where French President Francois Hollande is attending a match between the French national soccer team and Germany. According to the French press, the president has been evacuated safely.
Police stormed the Bataclan concert hall in which over 100 hostages are reportedly inside killing at least 3 attackers. Police said that at least 100 are dead inside the venue. President Hollande in route to the venue.
The Guardian reported that a witness on live radio in France claims "he heard the assailants [at the Bataclan] were screaming 'Allahu Akbar' while shooting inside the crowd." The report is unconfirmed as no attackers have been captured yet. If the report is accurate, it would confirm many suspicions that an attack of this magnitude is being perpetrated by Islamic terrorists.
In a statement to the press, U.S. President Obama called the attacks, "outrageous attempt to terrorize innocent civilians." Adding, "Those who think they can terrorize the people of France and the values they stand for are wrong."