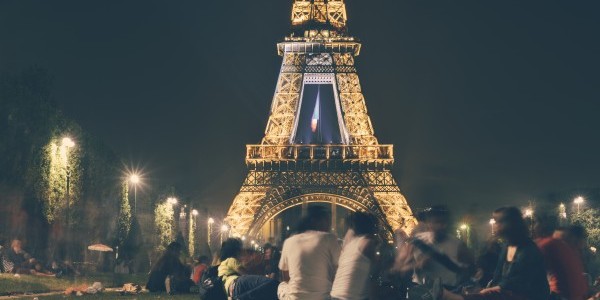 My son knows all about Paris because his paternal grandfather is head over heels in love with the city. A couple of years ago, my father-in-law and his wife traveled to Paris and spent a month there. A documentary filmmaker, my FIL filmed hours upon hours of footage of the gorgeous city. He brought home with him bags full of goodies, including a delicate music box for my stepdaughter, and a tiny little t-shirt for my son with the Eiffel Tower on it. When my FIL edited his footage together into a beautiful short film, we all watched it and my son, excited, pointed out the Eiffel Tower.
"That's the Eiffel Tower! It's on my t-shirt" He exclaimed. Soon after my FIL's film ended, my little guy had us pulling up photos of Paris with Google Image Search. Then we were on Google Maps trying to find all the places Grandpa had visited. He appeared to be bonding with a city without ever having visited.
In the time since then, my son would often sneak into his sister's room and take her French music box. He would sit and wind it up and listen to the French Can Can by himself. Long after he grew out of his Eiffel Tower t-shirt, he still thinks about Paris. Now, almost fluent in French, he has even more connection to the city.
So, it came as no surprise on Friday evening when he asked, "Did something bad happen in Paris, mom?"
Read the rest of this great post at Godless Mom.
[Image: Stokpic]