Ken Ham announced the supposed open date for the Ark Encounter.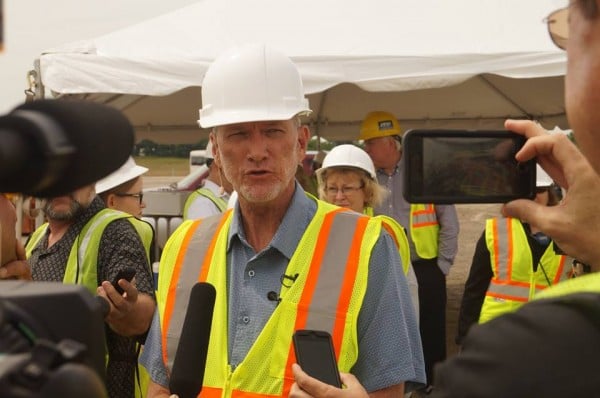 At a press conference Thursday morning, Answers in Genesis CEO Ken Ham announced the proposed opening date of the Ark Encounter. He said the park will be ready to open on July 7, 2016.
"It's rare that a conservative Christian organization would try to create a world-class attraction such as this, but that's exactly what we think we have here," said Ham.
The park which is now being privately funded after the organization lost its $18 million tax incentive is still under construction but Ham assured everyone it will be ready for the summer.
Ham believes the park will be so popular they are offering special tickets for separate day and night sessions for 40 days after the grand opening to accommodate the imagined crowds.
The battle over the $18 million is not over yet, as the case went to court with Ham insisting the park is being discriminated against for its religious message.
"We make no apology about our Christian message," Ham said in a blog post last week. "We have never hidden the fact that our purpose is to spread the truth of God's Word and its life-changing gospel message."
Kentucky's Governor-elect Matt Bevin has also offered his support for the park, saying he will offer tax incentives if legally permissible.
"As Governor-Elect Bevin puts his team of advisors together, this will be an issue that will be thoroughly vetted and discussed," Bevin spokeswoman Jessica Ditto said in the statement. "If the Commonwealth can legally provide financial incentives to the project, Governor-elect Bevin would certainly support doing so. Governor-Elect Bevin's administration will not discriminate among or against any worthy economic development projects."
As reported yesterday, the park is receiving a monumental tax incentive from the City of Williamstown which offered the park a 75 percent rebate on any new tax dollars created by the development.
Lawyers at Americans United for the Separation of Church and State are looking into that matter.