You may have noticed on the right hand sidebar a link to the blogs Patreon account. With Patreon, supporters can choose a monthly donation amount to help support the blog.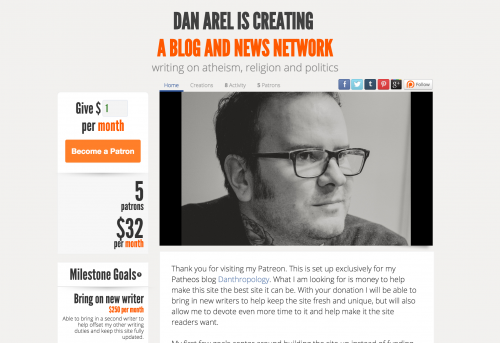 Why do I need support?
Since the blogs launch in August of 2014 it has grown from a personal blog to a growing network of some of my favorite writers and voices in the movement today. I want to continue to expand what we can accomplish as a team and I am asking for your help to achieve those goals.
I want my writers to be paid for the work they do, I want to be able to produce video series and even things like a podcast that just bring our voices to more and more people around the world.
Everyone who writes for Danthropology pours their hearts into this work and we believe it is meaningful. With your help we believe we can accomplish more.
If you can help, you just need to go here and commit to donating a monthly amount that works for you, starting as low as $1. I have rewards set up for people who donate as a personal thank you for your support.
With this money we plan to continue to expand our outreach and activism and find new mediums to reach others and help spread secular ideas and promote the separation of church and state, as well as offer our unique voices on issues happening around the world.
This blog played a key role in ending the Ark Encounter tax deductions and I can only imagine what we can accomplish with just a little more help.
If you are able to donate, I thank you, and if you are not, you do help support our work by simply visiting and sharing our links, so I thank you as well.