The Christian Right fully support terrorism against Planned Parenthood and many took to Twitter to support and show praise for Robert Lewis Dear after he opened fire inside a Planned Parenthood clinic in Colorado Springs, Colorado killing three people including a police officer responding to the call.
I have a policy to never block out Twitter names, as they have said these things publicly and deserve to be recognized, but I came across some of these on BuzzFeed and they were blocked out already.
This is the "pro-life" movement: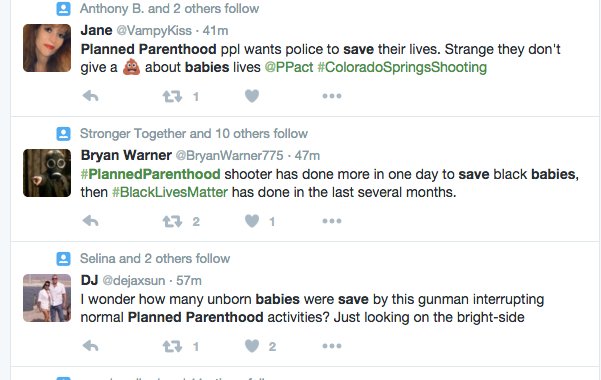 They are obviously fans of Matt Walsh, who probably had a hard-on throughout the entire shooting.
Planned Parenthood employees risk their lives, as MissAmbear correctly points out, but some coward believes those who work and visit the life-saving clinic deserve to die.