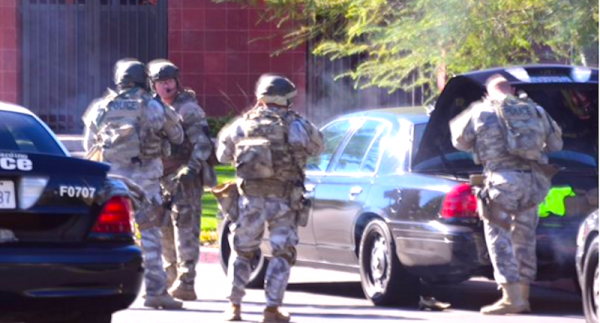 San Bernardino officials named Syed Farook and his wife Tashfeen Malik as the two assailants killed by police Wednesday afternoon in connection with the San Bernardino shooting earlier that morning.
Farook was a county health department inspector for San Bernardino, the same department that was holding their Christmas party at the Inland Regional Center where the attack took place.
Currently, no motive has been disclosed but an FBI official said they had some possible indications of a link to terrorism and Islamic radicalization. Though it seems a possible workplace dispute also played a role in the attack.
San Bernardino Police Chief Jarrod Burguan said both deceased suspects were dressed in "assault-style clothing" and armed with assault rifles and handguns.
14 people are confirmed killed and 17 wounded, not including a police officer who was injured during the shootout with the suspects. The worst mass shooting in the United States since Sandy Hook on December 14, 2012, and the 355th mass shooting this year.
Neighbors of Farook and his wife offered little insight to media, saying they moved to the area about one year ago with his wife and 6-month-old daughter, who was left with a family member before the shooting.
One neighbor who wished to remain anonymous said the family was quiet.
"They're very quiet, not very friendly," she said. "I only talked to them to say 'Hello, how are you?'"
She said, however, she was surprised to hear that Farook was named in connection with the shooting.
"It's somewhat unnerving to think that someone who lives next to you might be involved in that," she said.
[Image: Twitter]