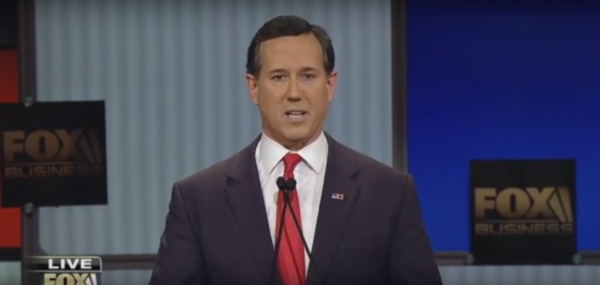 During the kids table Republican presidential debate Thursday night, Rick Santorum was asked about sending immigrants back to their home countries, even immigrants who have been in the country for a while, even those with children raised in this country.
When we say we need to send people back, I mean we send people back. Let me just make one point. I was in Storm Lake, Iowa, the other day near a Tyson's plant. Ninety-one percent of the kids that go to the elementary school there are minority kids. And they said well what are you gonna do with all these people, their families, they've lived here a long time. I said I'm gonna give 'em a gift. I'm gonna give them the gift of being able to help the country they were born in and we're gonna export America. The education they were able to receive, they learned about the English language, they learned about capitalism, they learned about democracy. You want to stop the flow of immigrants? Let's send 6 million Mexicans, Hondurans, Guatemalans, El Salvadorans, back into their country so they can start a renaissance in their country so they won't be coming here any more!
Is this his version of a study abroad program? Go back and change your country to be like ours!
This is seriously the dumbest thing I have heard in a long time and lacks all common sense, empathy, and shows a complete lack of knowledge about immigration and foreign policy. But it is rich in ethnocentricity.
It also stands against every single principle this country is built on.
[Image: Video screen capture]