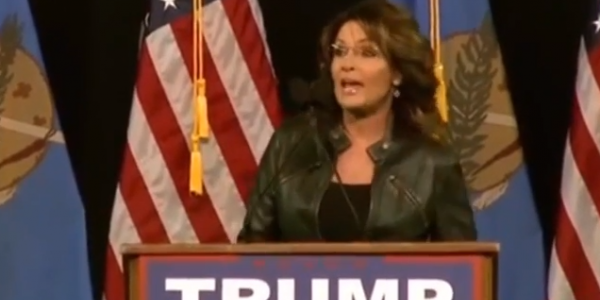 The former Alaskan governor and failed vice-presidential candidate, Sarah Palin told an audience Wednesday morning that her son Track Palin's domestic violence arrest was not his fault, but was the fault of President Obama for his not caring enough about veterans.
Palin mentioned to the audience at a Donald Trump rally in Tulsa that her 26-year-old son had served in Iraq. "My son, like so many others, they come back a bit different. They come back hardened."
"They come back wondering if there is that respect for what their fellow soldiers and airmen and every other member of the military have given so sacrificially to this country, and that starts at the top," she said, claiming her son suffers from PTSD. "It's a shame that our military personnel even have to question, have to wonder if they're respected anymore. It starts from the top. The question, though, it comes from the top, the question, though, that comes from our own president where they have to look at him and wonder, 'Do you know what we go through? Do you know what we're trying to do to secure America and to secure the freedoms that have been bequeathed us?'"
"So when my own son is going through what he goes through coming back, I can certainly relate with other families who kind of feel these ramifications of some PTSD and some of the woundedness that our soldiers do return with, and it makes me realize more than ever, it is now or never for the sake of America's finest that we'll have that commander in chief who will respect them and honor them," she added.
Nowhere in her statement does she hold Track accountable for his actions and only excuses them. A woman was punched and threatened and Sarah believes he holds zero responsibility and Obama should hold the blame because she believes he doesn't support our troops.
This is Republican accountability, in a nutshell, nothing is ever their fault and it's always the left which is to blame when they do horrible things.
According to the police statement, "An investigation revealed Track Palin had committed a domestic violence assault on a female, interfered with her ability to report a crime of domestic violence and possessed a firearm while intoxicated."
You can watch the video below courtesy of Right Wing Watch.
[Image: YouTube screen capture]