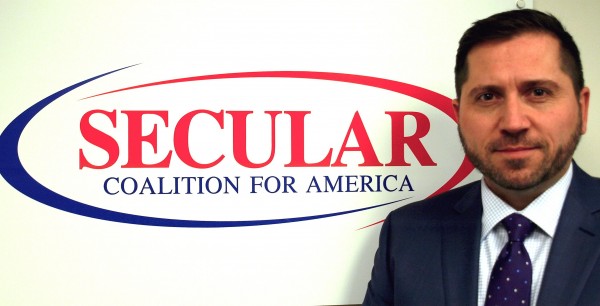 When Sean Faircloth left his position as Executive Director at the Secular Coalition to head to the Richard Dawkins Foundation a huge void was left. Faircloth was a seasoned politician and a relentless fighter for secularism.
His replacement, Edwina Rogers, a seasoned lobbyist, seemed to be a great choice given her experience in Washington. Except for one thing, Rogers was a lifelong Republican and had worked for many anti-secular politicians in her career.
Being a Republican should in no way bar someone from being secular or from running the Secular Coalition, but when you have a history of aligning with those who would benefit most from the fall of secularism, red flags go up.
Well, after Rogers was fired for reasons I will not go into here, a replacement was needed again. This time, they called upon Larry T. Decker.
In a press release, the Coalition said of Decker:
Decker seeks to employ his nearly 20 years of policy experience to unify the "nones," the segment of Americans who do not identify with any particular religion, and their allies into a recognized voting bloc ahead of the 2016 elections. According to a 2015 Pew study, "nones" are the fastest growing religious demographic comprising nearly one quarter of all Americans.

Decker, who identifies as an unaffiliated Christian, emphasized the need for political candidates and elected officials to recognize and respect atheists, agnostics, humanists, and other nontheists. "Our nation takes pride in our commitment to civil rights and civil liberties. In 2016, everyone should feel comfortable being open about who they are and unafraid to reject the imposition of other people's beliefs in their own lives. Unfortunately, hateful and insulting rhetoric toward nontheists and minority faiths cause many to feel that there is no place for them in our society. The Secular Coalition will staunchly defend those who are stigmatized and remind candidates and elected officials of their duty to serve citizens of all faiths and none."
Decker, who identifies as an "unaffiliated Christian," again, does not bar him from the position but does serve as a red flag to some given that, like Rogers, many Christians would benefit from the fall of secularism.
Coalition founder and President of the Board of Directors, Herb Silverman, does not share these worries and praised the Board's selection. "In addition to Larry's impressive background and accomplishments, his passion for our mission made him stand out as a leader. His vision for reaching the full spectrum of the religiously unaffiliated is bold and forward-thinking, and I think he is the right person for the job."
Yet, given the controversial choices made in the past by the board that did not work out so well, I thought I would ask Decker a few questions to better understand his position and what he wants to accomplish at the organization, and I am glad I did. Decker seems to be, in my opinion, a very good choice to move the organization forward, leaving the past behind and focusing on the future. I look forward seeing what the new board and Decker can accomplish.
Below is our brief interview, unedited:
Dan Arel (DA): It seems the Secular Coalition has been through some rocky times recently with changes and accusations from previous staff members, those controversies aside, what can you do to reassure Coalition supporters that those are behind us and that the organization is back to business as usual?
Larry Decker (LD): I can absolutely appreciate those concerns given what has happened in the past. I come into this position looking forward and not backwards. I've only been at the Secular Coalition for America for three weeks but I can say without a doubt that one of the greatest strengths of this organization is its staff and volunteers – among some of the most committed individuals I have ever had the pleasure of working with. Additionally, just last weekend, we elected four new Board members, all of whom have tremendous experience working in a number of areas including governance, policy, and fundraising. They share my enthusiasm for moving our organization forward and I'm excited to work with them toward that goal.
What I can confidently say is that we've turned a corner on the issues that caused some to question their confidence in the organization. I understand the importance trust plays in running a nonprofit and I can assure you that I am committed to governance, transparency and accountability. I do not like to tell people to "trust me, it's all going to be okay" – as a trained EMT, we are instructed to not use those words, and for good reason. I intend to increase confidence in this organization by building upon our successes and delivering victories our community can be proud of.
DA: When the last director was announced and was Republican there was a lot of concern about their ability to lead the organization, and now they have chosen to hire someone who calls themselves an "unaffiliated Christian." Given that both Republicans and many Christians have more to gain from the demise of the secular movement, how do you plan to reach out to the overwhelmingly strong atheist member base of the Secular Coalition and quell those fears?
LD: I did something I promised myself I wouldn't do following my announcement as the new Executive Director, and that was reading the comment sections of a lot of the articles written about me. I'm glad I did. First of all, I can understand why some would be skeptical of having an "unaffiliated Christian" running the nation's premier secular advocacy organization. The fact is, however, that I am a part of this community. I cannot stress the "unaffiliated" part enough.
I have personally seen and felt the discrimination as a result of religious privilege in this country. I've seen it as a gay man, I've seen it as someone who holds secular values, and I've seen it in the way close friends of mine who are atheists are treated. My ideals and values are reflected so much more in this community – in our community – than they are in the Christian community in which I was raised. There are some elements of Christianity that I feel close to, to deny that would be to compromise my integrity. However, I want to be clear that my identification as an unaffiliated Christian is not remotely comparable to that of the Christians we see making headlines.
I say that because I came here for the right reasons – I came here to be an advocate and to push back, as strongly as I can, on religious privilege. I said in an interview on the Friendly Atheist blog that I will go toe­to­toe with anyone who, in an attempt to promote their faith, dares to silence someone who does not share their beliefs – and I will.
DA: Lastly, it is truly a non­issue the religion of anyone in the secular movement and your Christianity should in no way disqualify you from the position, but the country seems to view the organization as an atheist organization, do you plan to work to change that narrative and do you think your job puts you in a unique position to expand the Coalition to be more inclusive of the religious secularists, something the movement seems to be lacking?
LD: I did not come to the Secular Coalition to make it any less of an atheist organization than it has always been. The Secular Coalition will continue to proudly represent atheists, however describing us as an "atheist organization" fails to capture the diversity of nontheistic identities we represent. Our mission is twofold: one, to strengthen the secular nature of our country by keeping church out of state and state out of church. Equally important is the second part of our mission: to increase the visibility of and respect for not just atheists, but also agnostics, humanists,ex­Muslims, humanistic Jews, and the full spectrum of nontheistic identities in this country.
Looking at the numbers, however, we have tremendous opportunities to grow this movement. I am talking about the nones – the religiously unaffiliated individuals that now represent nearly one quarter of all Americans. The nones haven't all walked away from their faith, but they have walked away from their churches. That's a fact that has the potential to permanently change the political landscape.I want to rally this constituency, nearly 60 million Americans, not based solely on what we've rejected but on the secular values we all embrace.
[Image: Secular Coalition]