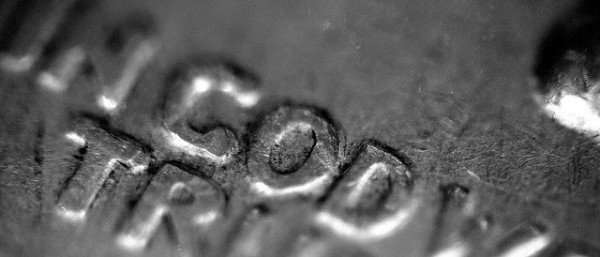 On January 22, House Bill 4225 was introduced to the West Virginia House of Delegates. The bill seeks to amend the code of West Virginia to include provisions related to "patriotic displays at public buildings." I'm sure you can already see where this is going.
HB 4225 has language "allowing for the national motto, 'In God We Trust', to be displayed on public buildings; allowing for the display of the POW-MIA flag at public buildings; and requiring the Department of Administration to develop guidelines for appropriate display of the motto and flag." The bill continues:
"The Legislature finds and declares that the national motto of "In God We Trust," is an important part of our country's history and heritage. Additionally, the POW-MIA flag is a symbol of citizen concern for U.S. military personnel taken as prisoners of war (POW) or listed as missing in action (MIA). These patriotic displays enhance our national pride and awareness, both of the sacrifices made by service members and our heritage as Americans.
The governing authority of any public property, public buildings and any building, designed, constructed and maintained with public funds from the state, a county or a municipality may prominently display on the property or building, the American national motto, 'In God We Trust.' Costs associated with the display of the motto may be paid with any private donations, gifts, grants and bequests received by the governing authority."
The delegates who have proposed this amendment have set up an interesting catch-22: you cannot vote against the bill in its current form without voting against both "In God We Trust"
and
POW-MIA displays. In other words, if you think that "In God We Trust" is somehow inappropriate, you also, by default, hate our troops.
The bill is so blatant a piece of propaganda that the drafters forgot to make sure that the POW-MIA displays aren't presented as just an after-thought designed as a "gotcha." A note at the bottom of HB 4225 says, "The purpose of this bill is to encourage public officials to display the national motto on public property." But not to encourage the display of the POW-MIA flag? Then why include it?
Robert Ray, Executive Director for The Original Motto Project, a group that opposes "In God We Trust" and promotes the more inclusive motto E Pluribus Unum, told me, "The bill as written has no real purpose since these government agencies are already allowed to display "In God We Trust." Tying this to a POW-MIA flag is little more than pandering and political maneuvering in order to portray anyone who opposes 'In God We Trust' as unpatriotic and anti-veteran."
The Original Motto Project plans to send out letters to all 100 members of the West Virginia House of Delegates requesting an amendment to HB 4225 that will allow for the display of E Pluribus Unum as an alternative to "In God We Trust." HB 4225 is currently in the House Committee on the Judiciary.
[Image: Creative Commons]