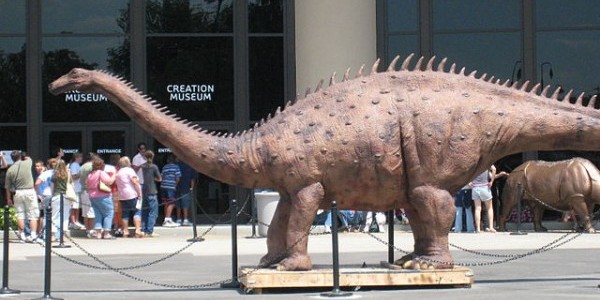 Ken Ham is apparently riding high after the court victory that makes his Ark Encounter theme park eligible for state tax incentives. The creationist is now seeking to expand the Creation Museum to make room for new traveling exhibits and a bigger parking lot.
His dream to expand took one step closer to reality when the Boon County Planning and Zoning Commission approved the plan on Wednesday.
We've experienced a lot of success with the museum," said Mike Zovath, co-founder of Answers in Genesis. "We expect even more people coming with the ark opening this summer. We're positioning ourselves, preparing for the additional crowds we expect."
The success he speaks of is a mirage of AiG's own making as tax reports have indicated the museum is hemorrhaging money and is fiscally in the red. Something the museum needs to overcome, hence trying to expand.
"It would give a lot more reasons for people to come back multiple times with new attractions and exhibits showing up every year," Zovath said. "That's the challenge for every attraction is coming up with something new."
I can only speculate, but the timing seems odd that the museum would suddenly feel it has the financial capabilities to expand only after it was told by the courts that AiG and the Ark Encounter would be eligible for taxpayer dollars.
The court ruled that Answers in Genesis had rights in the case against Kentucky in religiously discriminating against employees when acting as the parent company to the Ark Encounter, LLC. This leads me to believe they plan to organize the tax money rebate around AiG and not specifically the park. If that is the case, it would mean they could use that money for anything AiG wants, not just on the park itself.
The judge consistently referenced Answers in Genesis, not the Ark Encounter in his injunction, and leads me to believe AiG may feel they have some extra rights surrounding the tax rebates and religious privilege.
The expansion still needs to be approved by the Boone County Fiscal Court, which is expected to make a decision this spring.
Photo credit: Jelson25 – Licensed under Public Domain via Wikimedia Commons