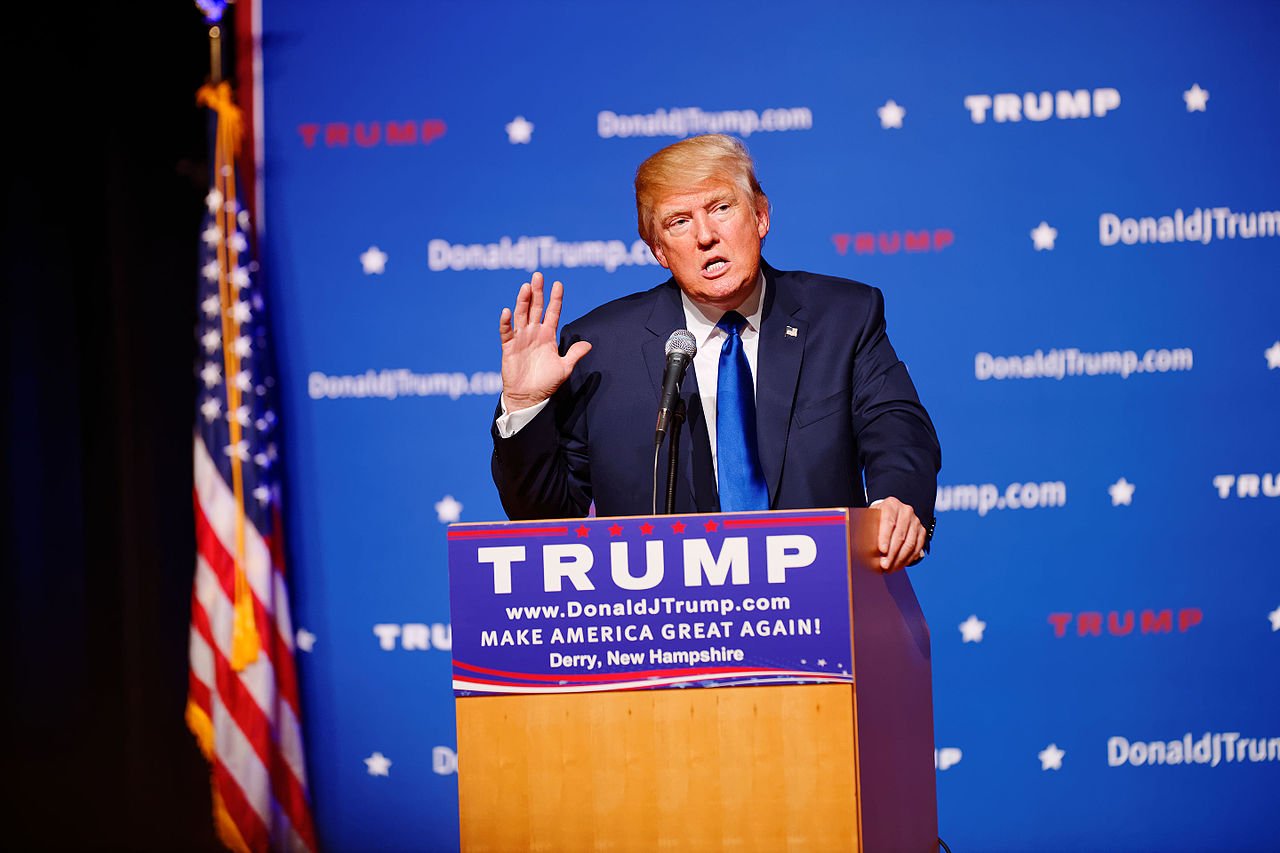 This post does not merely criticize Donald Trump for being an ersatz "real man". It criticizes those too-many Americans for whom such a ruse is somehow attractive.
David Savran, professor of theatre at CUNY Graduate Center, begins his book Communists, Cowboys, and Queers (a theoretical text discussing post-war masculine politics in theatre) with a story reported by The New York Times in 1958. The Times covers Richard Nixon and Nikita Khrushchev discussing their respective countries' positions during the Cold War, unable to make a concession on any of their negotiating points. Finally they are served drinks, after which Khrushchev indicates a beautiful, young waitress and says, "Let's drink to the ladies." Nixon hastens to reassure him, "We can all drink to the ladies."
Thus, "the politics of masculinity," Savran tells us, is a
…point of strategic agreement that transcends the Cold War. . . [This] accomplishes far more than the Geneva Convention ever could, coupling the two Cold Warriors under the aegis of "all", of a "universal" desiring subject–belligerent, inflamed, masculine, and heterosexual–who, in his unspeakable arrogance, carves up the world and then threatens to annihilate it. (Savran, pg. 4)
The post-war politics of masculinity, in this and many other regards, has not perished from the earth. In 1964, when Richard Hofstader wrote his Pulitzer Prize-winning Anti-Intellectualism in American Life, he too understood the division between masculine power and mere intellectualism, and wrote a chapter on "The Decline of the Gentleman" and in his conclusion distinguished the difference between power using expertise as a tool and true intellect, which the truly powerful can never touch. Arthur Miller, in many of his plays but certainly with the "anemic" Bernard in Death of a Salesman, illustrates the brusquely American attitude separating the manly and successful from the bookish and weak. Anything other than the proverbial real man in this country has been considered to be a coward, a homosexual, or worse sobriquets of sub-male.
For Americans, then, who have routinely heard the rhetoric from the Right concerning whiny liberals and tough, war-like Republicans, it should come as little surprise that Donald Trump has been celebrating primary after primary with poorly articulated victory speeches. More often than any other criticism of the 2016 race, I hear both my liberal and moderate Republican friends cry in bewilderment: "Why is he doing so well?" They appeal to all the expected criticisms–that he has no experience in public office; that his business ventures have resulted in documented failures; that his diplomacy is non-existent; that his rhetoric is racist, sexist, and betrays all the symptoms of the adolescent jock. But, I respond to them, have you yet considered he is appealing to a large portion of the American public because of this apish projection?
It is my submission that the American public is responding with new verve to a current masculine ethos. Since 9/11, those more easily given to fear for public safety have thrown around phrases like "national security" with all the insecurity of someone desperately seeking a father figure to protect them. And while I have been musing for months that the common voters of the Right have been seeking a "real man" all during the "cowardly" administration of that "total pussy" Obama (Fox News analyst Ralph Peters, 2015), it is only after the last several public appearances of Donald Trump that I was sure I was correct.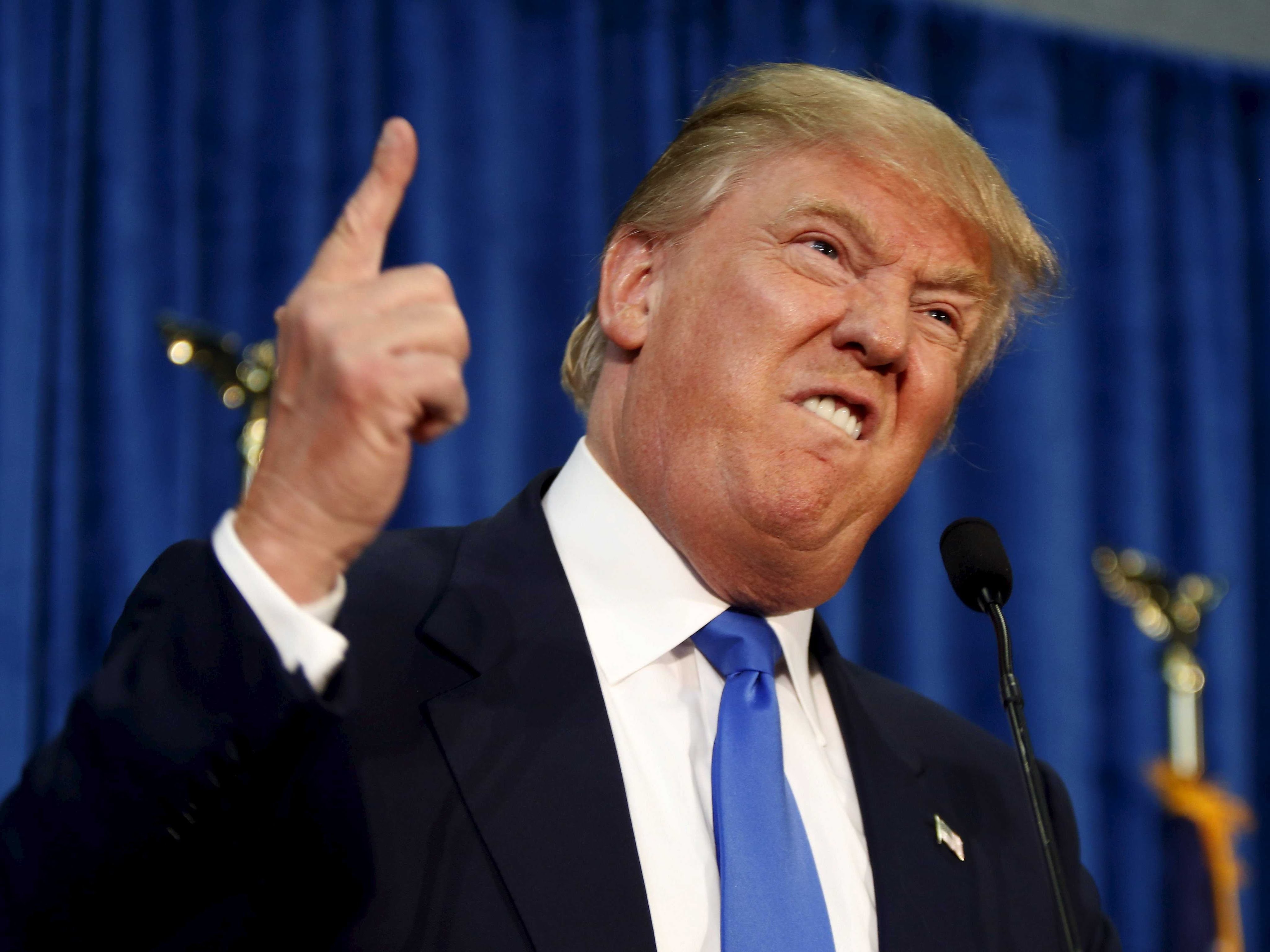 The vomitous phrases used to justify the support for Trump so clearly betray this sentiment that it pains me to point it out. That Trump "says what he thinks", that he "doesn't back down from anyone" are obvious synonym phrases for belligerent strength. The continuous illusion that Trump will through sheer force of spirit put illegal immigration, ISIS, and Putin in line are symptoms of a masculine solipsism so strong that it would seem cheap to point out his Freudian obsession with towers. This is, of course, without mentioning the fact that the domain name realmenfortrump.com actually exists.
Regardless, arguing for the disappointing relevance of masculine politics was done for me, amazingly, by the Republican candidates themselves. Between Marco Rubio's accusation and Trump's teenage locker-room defense, it is clear that, at the very least, some Republicans believe that the size of one's cock is a necessary qualification for holding the country's highest office. This would be more surprising if such puerile masculine insecurity wasn't the norm in much of the nation's social attitude in the past, but never before has it been so plainly put either as a thrust or a parry between public candidates. Trump's endless self-painting as a "winner" and his sexist comments to virtually every female he's publicly regarded aren't part of the reason why he shouldn't be doing as well as he is: that's precisely why he is doing as well as he is, to the people who think such things are the basis of strong, masculine leadership.
So why are many so unwilling to believe that the post-war "real man" is precisely what too many Americans want in office, or that such mutilations of what it is to be a man is obfuscated by language regarding successful business practices, blunt talk, and autonomy from financial support? I'd like to think it's because such a cartoonish concept of what it means to be a man has been unconsciously dismissed by the many people I speak to regarding the success of Trump. One hopes that the majority of the country isn't turned on by such an insult to masculinity nor the concept of "success" as measured by wealth, brutality, and the length of one's member. Primary results indicate otherwise. In his interview with NPR, former NFL player Joe Ehrmann says that "Be a man" are "the scariest words a boy can hear," and called "athletic ability, sexual conquest, and economic success" the "three lies of masculinity." The author of the following thoughts is a clearly a proliferator of those lies and others.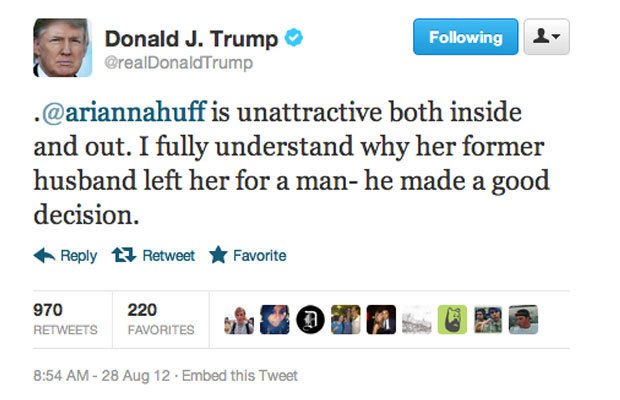 The myriad conversations in this country surrounding feminism, unequal pay for women, and the victims of sexual abuse highlight merely one half of what is wrong with American sexual attitudes. The way many Americans see women is counterpoised perfectly against how, apparently, many Americans see men. In order to fix this, the shifting of a paradigm much older than sexual relations in this country must occur, and naturally it won't happen before November. But I sincerely hope that if any voters in America are voting for the kind of "man" they want in office, they might impose those same evaluations of masculinity on themselves before they check the ballot. In some respects, they'll certainly find they don't measure up. Perhaps that will force them to question the sub-zipper standard altogether.
Image Use: Twitter Screenshots, Wikipedia Commons.
Cited Materials:
Savran, David. Communists, Cowboys, and Queers. University of Minnesota Press, 1992.
Borchers, Callum. "A Fox commentator just called Obama a vulgar name. And got suspended for it." The Washington Post. December 7th, 2015.
"The Three Scariest Words a Boy Can Hear". NPR News. July 14th, 2014.