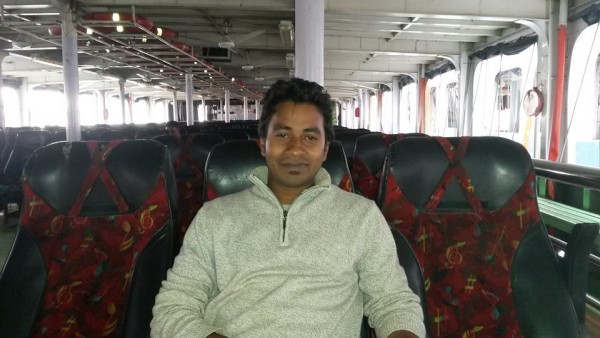 Following yet another killing of an atheist journalist in Bangladesh, the Center for Inquiry has released the following statement:
The Center for Inquiry is saddened and outraged to learn that a university student in Bangladesh has been killed in an attack by suspected Islamic extremists. Najimuddin Samad, a 28-year-old law student at Jagannath University, was hacked to death and shot by several assailants as he was returning home from classes last night. CFI, which has been working to rescue secularists in Bangladesh who have been targeted for killing, demanded that the Bangladeshi government take affirmative steps to protect its people and their right to criticize Islam.

It has been reported that the killers chanted "Allahu Akbar" as they hacked Samad with machetes. CFI can confirm that Samad was an atheist, as well as an activist who advocated for secularism and criticized radical Islam. This is the first such attack of 2016, following a spasm of murders in 2015 that began with Bangladeshi-American secular activist Avijit Roy, a friend and ally of the Center for Inquiry in the fight to defend free expression around the world, and which has also impacted Hindu, Christian, and Shia minorities.

"It is both heartbreaking and maddening to think that this bright and passionate young student, with his whole life ahead of him, was so brutally and callously murdered, almost certainly by Islamic extremists, all because he spoke out for secularism and reason. All of us at the Center for Inquiry extend our deepest condolences to his friends and family," said Michael De Dora, CFI's director of public policy and main representative to the United Nations.

Samad had been organizing campaigns for secularism on Facebook, and a day before the murder, Samad posted about his concerns over the "deterioration of law and order" in the country, calling it a "public disgrace."

"The government of Bangladesh must do much more to protect its own people from marauding Islamist killers," said De Dora. "These murders keep happening because they are allowed to happen, leaving writers and activists like Samad, Avijit, and the other victims as the only ones willing to stand up to those fomenting this violence. The Bangladesh government must publicly and forcefully defend the universal human rights to freedom of religion, belief, and expression, fully investigate and prosecute these crimes, and show that attacks on individuals based on their beliefs or expressions will not be tolerated."

CFI has made the crisis in Bangladesh a focus of its work for free expression around the world. Last year, CFI established the Freethought Emergency Fund to assist with the relocation of secular writers and activists in danger for their lives. In December, CFI held a briefing and several meetings on Capitol Hill on the crisis, and was joined by Bangladeshi-American activist and writer Rafida Bonya Ahmed, the widow of Avijit Roy who narrowly survived the attack that took her husband.
Najimuddin Samad is the first atheist killed this year, but sadly joins a long list of atheists slaughtered at the hands of Islamists in the region in the last few months.
As noted on the Friendly Atheist blog, Samad's death is listed alongside, "Dr. Avijit Roy in February, Washiqur Rahman in March, Ananta Bijoy Das in May, Niloy Neel in August, and (publisher of Roy's books) Faisal Arefin Dipon in October."
News reports from Bangladesh say the killers yelled "Allahu Akbar" as they attacked Samad:
His friends said that Nazim used to campaign for secularism on Facebook and was critical of radical Islamists. A day before the murder, he expressed concerns over the country's law and order in a Facebook post.

Police said that the killers who came on a motorcycle first intercepted them and then attacked Nazim with machetes. At one point, he fell on the street and then the attackers shot him to confirm death before leaving the place. His brain spilled over the road in the attack.

Businessmen of the area closed the shops immediately after hearing the gunshots.

During the murder, the killers were chanting "Allahu Akbar," police said quoting locals.
It is time for the government to take action, to stop the senseless violence against freethinkers and atheists. Until that day comes, until real, meaningful action is taken, the lives of such outspoken religious critics will remain in grave danger.