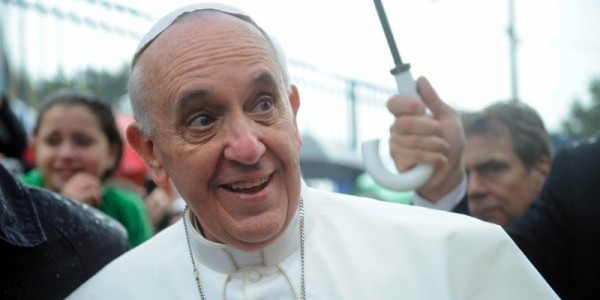 During Pope Francis' report on "the family" in which he said that same-sex couples are not legitimate families, he also went on to disparage transgender men and women, as well as children, and said that safe-sex education "promotes narcissism."
In the report, the pontiff wrote that:
"Frequently, sex education deals primarily with 'protection' through the practice of 'safe sex'
"Such expressions convey a negative attitude towards the natural procreative finality of sexuality, as if an eventual child were an enemy to be protected against.
"This way of thinking promotes narcissism and aggressively in place of acceptance. It is always irresponsible to invite adolescents to toy with their bodies and their desires, as if they possessed the maturity, values, mutual commitment and goals proper to marriage."
His solution is that sex-education should focus on "modesty" and then added that schools should teach children to "respect and appreciation for differences."
Unless, of course, you are transgender. He went on to write that:
"The young need to be helped to accept their own body as it was created, for thinking that we enjoy absolute power over our own bodies turns, often subtly, into thinking that we enjoy absolute power over creation.
"An appreciation of our body as male or female is also necessary for our own self-awareness in an encounter with others different from ourselves. In this way we can joyfully accept the specific gifts of another man or woman, the work of God the Creator, and find mutual enrichment."
He continued, "Only by losing the fear of being different, can we be freed of self-centredness and self-absorption."
"Sex education should help young people to accept their own bodies and to avoid the pretension to cancel out sexual difference because one no longer knows how to deal with it".
This is the man liberals are praising for being so open-minded and revolutionary as pope. Yes, he may say very nice things about poverty while living in a house of gold, and may have put together a council to address the church's rampant child sexual abuse, a council that has done absolutely nothing, but he has continued to be the same Catholic bigot as all of his predecessors.
There is nothing liberal or open-minded about this pope. We must not forget that, and must continue to put endless pressure on the church for its countless crimes against humanity and especially against children.
Pope Francis is a monster – don't ever forget that.