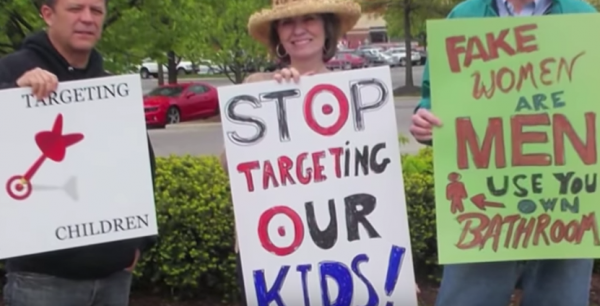 Faith2Action, a religious anti-LGBTQ hate group that is one of the organizations behind a recent boycott of Target stores over their gender inclusive bathroom policies, is now launching a new campaign to protest the retail giant.
"Don't Target Our Daughters Day" will take place on June 4, four days before the corporation's shareholders meeting on the 8th.
The organization says that the protest will be a "moment to stand together" and to warn shoppers about Target's bathroom policy allowing "predators and sex offenders" into women's restrooms and fitting rooms. They say they will mount their protests outside the stores.
To announce this new protest, the group released an incredibly bizarre music video that you can watch below.
The video features dramatized footage of a girl being assaulted in a Target bathroom amid news reports of the Target controversy.
"No matter how loud it's shouted, sin is not a civil right," a singer in the video opines. "Calling evil good will never make it right."
This is the exact kind of hate and bigotry we have come to expect from the Christian Right and religion, in general, these days.
This kind of action leaves very little argument for the usefulness of religion in modern society as it is now only being used to demonize innocent people and as a tool to force hateful laws upon people that religious followers do not like.
You can watch the warped video below and on June 4, visit your local Target and show your support.