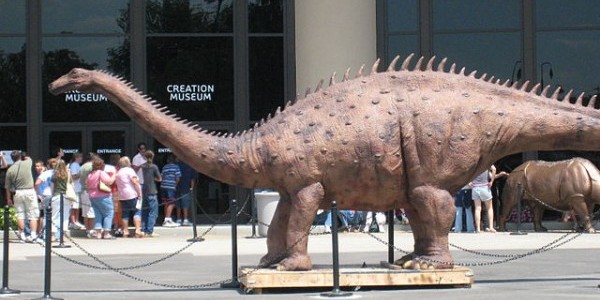 The Freedom From Religion Foundation (FFRF) is being accused of bullying public schools by Ken Ham, CEO, and owner of the Creation Museum and the upcoming Ark Encounter theme park.
FFRF has warned Kentucky-based public school that their field trips to the Creation Museum, a religious museum run by Ham's apologetics group Answers in Genesis, are unconstitutional.
"Public schools may not advance or promote religion. Bringing students on a field trip to a religious venue is a blatant promotion of religion," said FFRF Legal Fellow Madeline Ziegler in the FFRF letter to Nicholas Subashi, legal counsel for the Brookville Local Schools, which regularly visits the museum.
"It is unconstitutional for a public school to take students on a field trip to a religious venue such as the Creation Museum, a Christian museum which promotes the religious doctrine of creationism and lists its mission as 'to point today's culture back to the authority of Scripture and proclaim the gospel message,'" the letter continued.
The group then urged the school to "immediately cancel the planned May 20 field trip and refrain from taking young students on inappropriate, unconstitutional religious trips in the future."
Ham, however, argued that the schools are not violating any laws and accused FFRF of bullying the school.
"If public schools were bringing students here and their teachers were saying, 'THIS interpretation is the only truth that you should personally accept,' then that would be a violation of the Establishment Clause of the Constitution," he said.
He claimed that the teachers are not presenting the museum as a matter of fact and instead of simply presenting another view on the subject of evolution and creation.
"Public school officials should neither personally endorse nor diminish the museum's view, but rather present our beliefs objectively," Ham said.
Schools are not required, nor permitted to offer creationism as a viable alternative to the scientific fact of evolution. Multiple Supreme Court rulings have already come down on this subject and banned the teaching of creationism and or intelligent design in the classroom. Taking a trip to a religious museum, posed as an alternative to a secular education is in violation of not only the establishment clause but of these Supreme Court rulings as well.